A Casarella Restaurant in Pigna - Corsican Tapas
Reservation by phone, one to several days in advance during the season. Thank you.
Situated in the village of Pigna, Balagne, A Casarella restaurant handpicks organic products from the garden, which vary with the seasons, and can be enjoyed as expertly crafted tapas or as freshly pressed juices of the day, all while taking in the views of the sea and the plain from the terrace.
Panoramic Terrace and Sea Views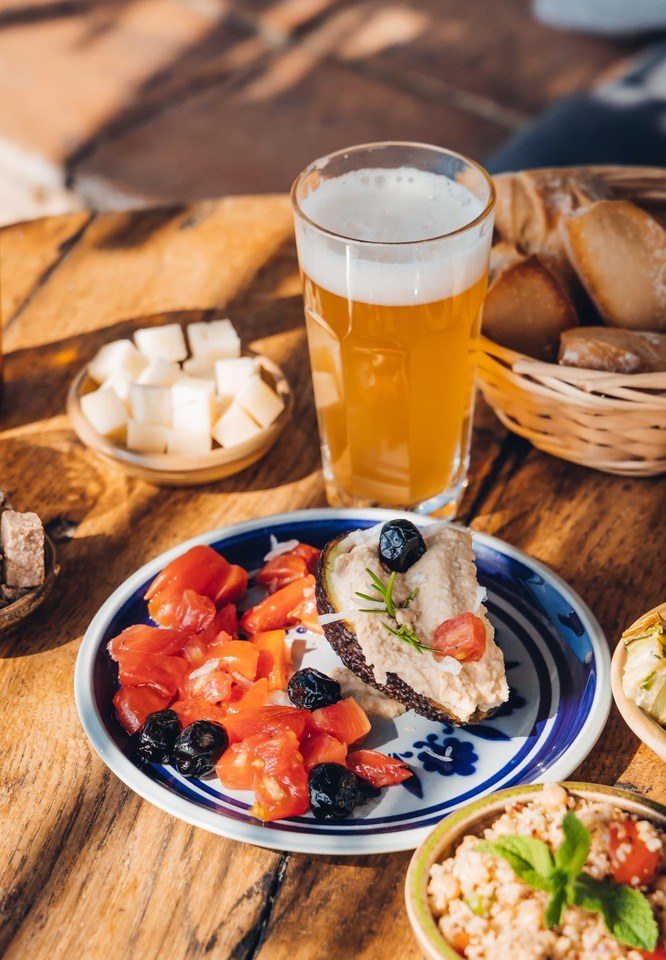 Recommended by the Routard Guide for over 20 years, the A Casarella tapas restaurant is located in Pigna, a typical Balagne village with cobblestone streets visited by numerous tourists each year. A Casarella welcomes you from April to October (closed on Saturdays), offering all-day dining of simplicity and quality, featuring many local and organic products, in continuous service - ideal for losing track of time during your holidays.
Terrace with Sea Views
Another asset of the A Casarella restaurant is the panorama offered by its terrace. It captivates every customer, with a view over the plain and the sea, made even more sublime by the Balagne sunsets.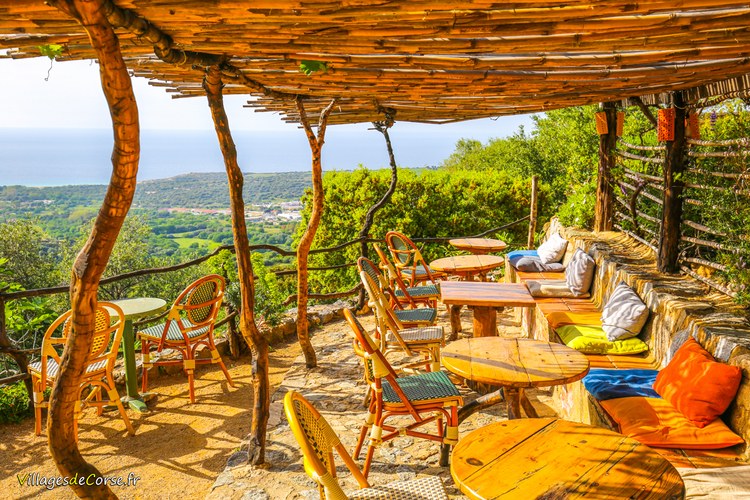 Reservations in July and August
With seating for approximately one hundred guests, the restaurant is fully booked during the peak season and invites you to make reservations, if possible, a few days before your planned visit. Depending on the available seating, you can specify the location you desire (excellent view, average view, no view).
Corsican Tapas on the Menu - Seasonal and Organic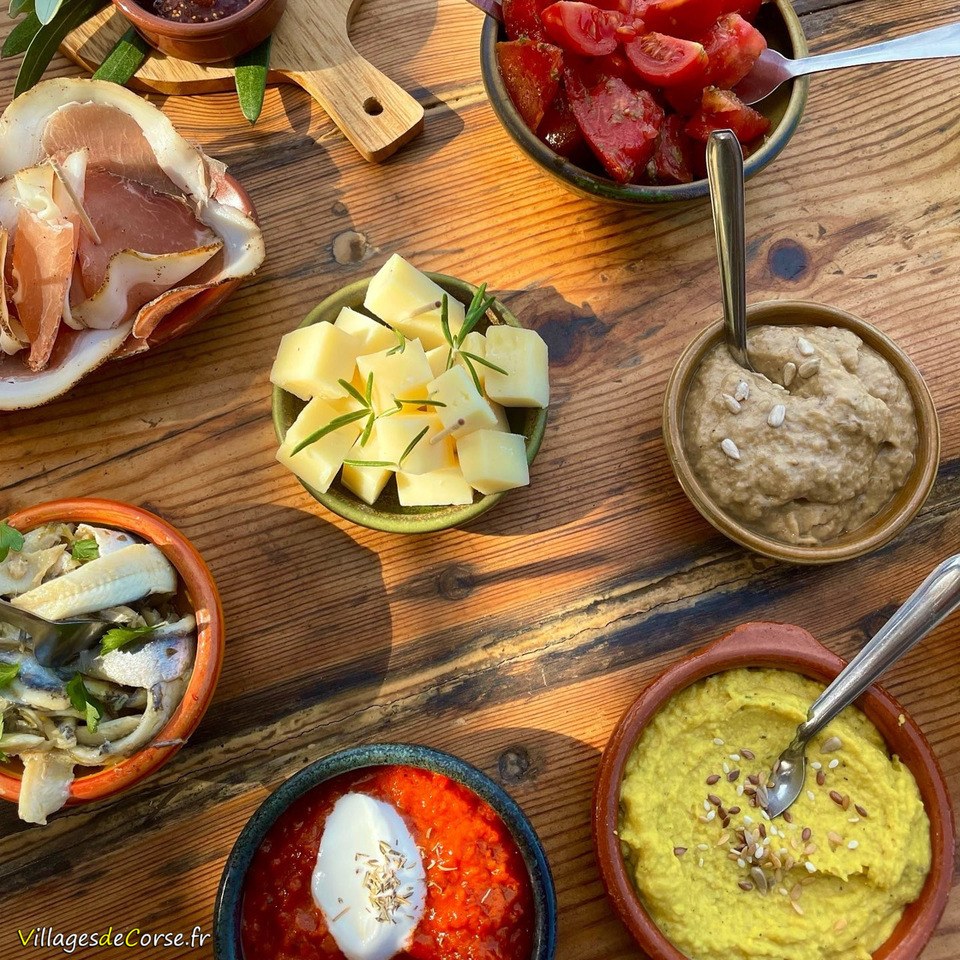 Local, seasonal, and organic agricultural products, vegetables from the garden, even glass bottles of mineral water - each ingredient reflects a commitment to quality and environmental sensibility. A Casarella invites you to rediscover simple, tasty flavors.
The restaurant operates on the principle of tapas, prepared with seasonal raw vegetables from April to mid-July, but also includes small prepared dishes with a Corsican touch, such as peppers stuffed with brocciu.
Culinary pleasure is delivered through daily products combined in a myriad of ways.
On the menu: A Casarella offers a suggestion of the day from April to July which then transforms into tapas of the day, such as bread with organic (non-hybrid) tomatoes from the garden, olive oil, and fleur de sel.
Tapas Prices - A Casarella Menu
The price for an assortment of 8 tapas is 43 euros, but this formula is not obligatory. They are served in small ramekins accompanied by a basket of artisanal bread from the Amadeus bakery, Simon Perrin in Calenzana. Gluten-free galettes are available upon request.
The menu varies according to the progression of the season with predominantly organic fruits and vegetables, sourced from committed professionals.
Homemade Kombucha, the favorite of 2023
Kombucha is a fermented beverage using beneficial bacteria, slightly acidic, mixed with a sugar-based tea solution. Since 2023, A Casarella has been offering homemade Kombucha, made by Séverine, a Made in Corsica, artisanal and natural beverage.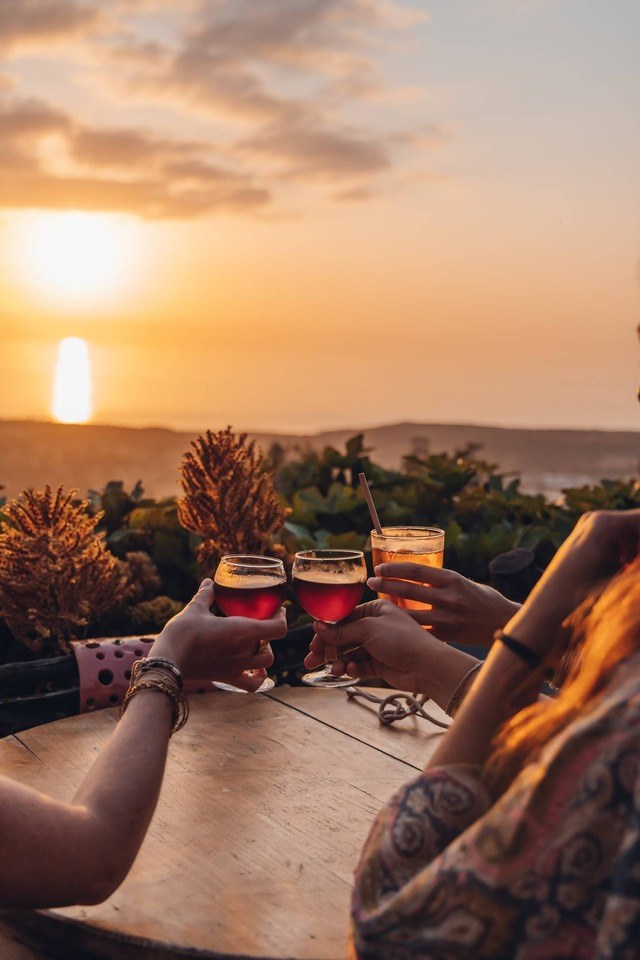 Local Tapas
Chickpea puree, garlic, olive oil
€4.50
Eggplant caviar
€5
Very tasty original olive paste (I Balanini Speloncato)
€5
Tomatoes with pesto (in season)
€5.50
Fresh marinated anchovies, garlic and lemon
€6
Aged goat cheese and fig jam (U Nuvellaciu)
€6.50
Corsican sheep tomme (Pierucci)
€5.50
Farmhouse Corsican sausage (PL Pistorozzi - Ville di Paraso)
€5.50
Full set of 8 tapas
€43

Artisanal ice cream by José Salge in St Florent - 2 scoop cup
Vanilla Canistrelli
€5.50
Lemon Basil
Garden Mint
Nuciola, Corsican hazelnuts
Castagna, Corsican chestnut
Raspberry
Palitos, organic ice lollies with Corsican fruits
Raspberry
€3.50
Strawberry
Clementine

Homemade pastries
Chocolate / coconut cake (vegan, gluten-free and organic)
€5
Chestnut flan with blood orange coulis
€6.50
Organic flour and eggs - Corsican AOP organic chestnut flour from GAEC Sativa in Lozzi
For the zitelli (up to 10 years)
Bread, Corsican sausage and sheep tomme, tomatoes and chips + organic compote
€8.50
Bread, Corsican sausage and sheep tomme, tomatoes and chips + Organic water Palitos
€10.50
Breakfast
Organic muesli, yogurt, dried fruits, seeds & maple syrup
€8.50
Two small breads, butters (20g), two homemade jams
€5

Coffee (Sidamo in Ethiopia, roasted in Ile Rousse)
Espresso, long coffee, hazelnut
€1.80
Double espresso
€3.50
Café au lait (plant-based milk on request)
€4
Caffè con panna (whipped cream and cocoa)
€4.50
Summer teas and infusions
Jasmine or mint green tea (from Dammann)
€3.50
Black tea (Breakfast tea from Dammann)
€3.50
Garden herbal tea (verbena, etc...)
€2.80
Corsican artisanal fruit juice
Apricots or apples (Lucciani glass, 20 cl)
€3.50
Organic orange mango passion (Frescu frescu bottle 25 cl)
€4

Syrup with water - Moulin de Valdonne
Mint
€2.80
Lemon
Orgeat
Grenadine
Strawberry
Corsican sodas and sparkling waters
Artisanal lemon lemonade (33cl) Organic - Gloria in Calvi
€4.50
Diabolo (Corsican lemonade in 25 cl and syrup)
€4
Orezza + syrup
€4
The favorites of A Casarella
Homemade kombucha, Made in Corsica by Séverine, artisanal and natural
€3.50
Homemade iced tea, peach apricot
€3.50
Corsican mineral waters (in glass)
Corsican mineral water 50cl
€3.50
Corsican mineral water 1L
€4.50
Orezza sparkling water 33 cl
€3.50
Orezza sparkling water 1L
€5.50
Or Carafe or glass of water

Corsican beers
Amber Pietra with chestnut 25 cl
€4
Pietra Bionda, organic and gluten-free 33 cl
€6
San Pé Rossa, fruity red 25 cl
€4
Colomba, white, aroma of the maquis 25 cl
€4
Corsican wines
AOP Cap Corse Muscat from Casa Angeli in Patrimonio 7.50cl
€4.50
Lemon wine, myrtle, 4 citrus fruits, from E. Olmeta in Borgo
€3.50
Menu and games for children
A Casarella also offers a children's menu in the colors of Corsica: sheep tomme, tomatoes, sausage and organic water sticks, all made here. A real success launched in 2019, the games basket will delight children as well as parents, available for free service on the terrace.
Orange juice squeezed on site in season
It's the trademark of the house, the citrus fruits - oranges, blood oranges, lemon - are cut and squeezed on site to be served fresh and full of vitamins. Fruit juices very popular with children as well as adults, to find as long as the season allows.
Organic and balanced breakfast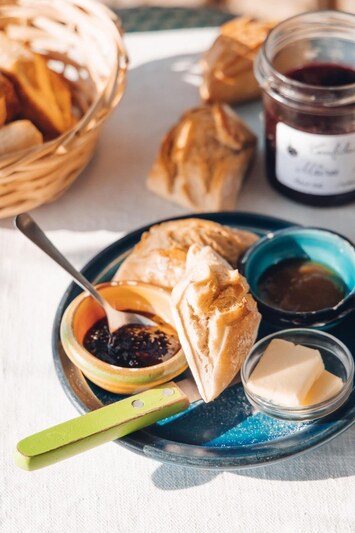 From the morning, A Casarella welcomes you by offering two breakfast formulas:
Organic muesli, yogurt, dried fruits, seeds & maple syrup
Or two small breads, butters (20g), and two homemade jams
Eating healthily
A Casarella offers simple and quality food with seasonal, local, and organic products whenever possible, especially for vegetables. This philosophy goes beyond a simple commitment for Sylvie, who cannot imagine working any other way. It's a lifestyle concept that focuses on healthy and natural consumption, while also paying attention to environmental impact by practicing sorting.
An ideal address to eat well without complexity.
Family-friendly and convivial
The premises correspond to the message Sylvie wants to convey, with a friendly atmosphere, a friendly staff, and quality products to share good moments.