A Cupulatta in Vero, the City of Turtles
A Unique Park in Europe
A Cupulatta means "turtle" in Corsican. Located about twenty kilometers north of Ajaccio, the park has been open to the public since 1998 and to this day, presents the largest collection of turtles in the world. Set in a natural, shady environment, offering the opportunity to eat and picnic, you will be able to observe most of the 130 species (3000 animals) present in the park. Coming from the 5 continents: Europe, America, Asia, Africa, Oceania, the turtles evolve in a protected space. Gathering more than 60,000 visitors a year, A Cupulatta presents a unique and rare collection to the general public, with the aim of safeguarding, studying and protecting terrestrial and aquatic turtles from around the world.
Large Semi-Shaded Private Parking
You will have no difficulty finding a spot in one of the park's two large car parks, which have many spaces in the shade of the trees.
A Small Preview of Some Turtle Species
The A Cupulatta zoological park allows you to observe most of the 130 species of turtles it houses, which can be classified into different families: giant turtles, land turtles, sea turtles, freshwater turtles.
Here is a non-exhaustive list of the turtles you will meet at the A Cupulatta park: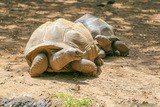 Giant of Seychelles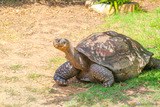 Giant of Galapagos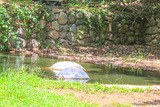 Giant of the Marshes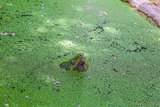 Alligator Turtle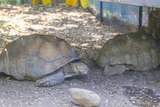 Sulcata Turtle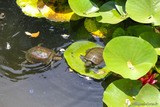 European Pond Turtle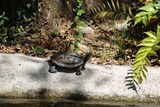 Northern False Map Turtle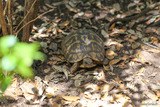 Hermann's Tortoise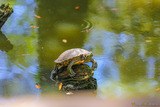 Red-Eared Slider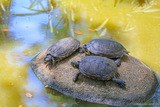 Yellow-Bellied Slider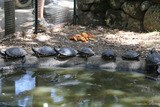 Red-Necked Chinese Pond Turtle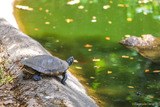 Concinnity Pseudemys
An Entertaining and Family-friendly Stroll
On a natural site of 2.5 hectares, the discovery of species is made through small paths lined with stones. Throughout your journey, signs will help you better understand the life and secrets of turtles, you will have the opportunity to discover the habitat, diet and reproduction modes of this fascinating reptile! The turtle is an animal that aspires to calm and serenity, so during your walk, you can appreciate the bird songs, the surrounding flora, and even the sound of the water from the river flowing below. You should allow about 1h30 for the walk. You will discover the giant tortoises from the Seychelles or Galapagos, which can weigh up to 250 kg, the magnificent Charcoal tortoises from South America, the Alligator turtle, and many others, not forgetting our familiar Hermann's tortoise. You may even have the chance to witness the hatching of babies!
A well-treed setting equipped with misters for your comfort during the intense summer heat. A park that pleases the whole family and offers unanimous success to both children and adults!
A Passionate Team
Pierre Moisson, the park's director, is a trained veterinarian. Formerly the director of the Mulhouse Zoo, he arrived in Corsica in 2010. Driven by a desire to preserve and reintroduce endangered species, he finds many challenges to meet within the A Cupulatta park, such as the conservation of turtles, providing them with the comfort and quality of life necessary for their reproduction and also transmitting information to the public. As an educator and passionate about his profession, Pierre Moisson wishes to make the park more connected and intuitive in order to enhance the experience and immersion with the turtles. There are exciting projects ahead.
Surrounded by a team of enthusiasts, each person diligently takes care of the animals on site daily. Summer and winter alike, the turtles are watched over and cherished. They peacefully roam in areas where facilities have been created to replicate their natural habitat. During the breeding period, the eggs are collected to protect them from predators. The entire staff works tirelessly to provide optimal living conditions for their "small" wards. Passion, preservation, and transmission seem to be the words that best describe the A Cupulatta teams. Indeed, you will easily notice that the welcome extended to the public is always warm and caring, with the aim of exchanging and sharing knowledge.
The Preservation of Turtles
A Cupulatta is not only a park for visitors, but also a center dedicated to the breeding, study, and protection of turtles. Today, turtles are among the most endangered species groups worldwide. They are disappearing due to the pollution of our environment, including pesticides and insecticides, but not only that, a large number of them are killed on roads or during garden maintenance (mowing, clearing...). A Cupulatta houses numerous endangered species within its park, which can thrive in secure places and thus allow their reproduction. Between 400 and 1000 hatches per year take place on the site, which also benefits from a nursery for baby aquatic turtles and a veterinary clinic.
On-site Catering
You can benefit from on-site catering with local products: Corsican cold cuts and cheeses. But also paninis, fries, ice cream, beverages (pago, coca, fanta, ice tea, mineral water).
You will also find Palitos Corsican organic ice creams as well as Haribo sweets.
Savory / Sweet Menu - On-site Snacks
"Cuora" Plate
3 Corsican cheeses, fig jam
7€
"Pyxis" Plate
Lonzo, coppa, sausage, butter
6.70€
"Seychelles" Tarte Tatin
Vegetables + tapenade / vegetables + olives
5.50€
"Matamata" Salad
Tomato tartare, tabbouleh, cucumbers, feta
5.50€
Goat Cheese Feuilletine
Tomatoes and olives
5.50€

U Spuntinu - Galapagos Panini
4 cheeses: Camembert, blue, goat, mozzarella
5.50€
Chicken: Mozzarella, mustard and mayo
5.50€
Ham: Mozzarella, mustard and mayo
5.50€
Plate of fries
4.20€

U Spuntinu - Galapagos Panini
Alligator Croc
5.50€
Hernann Quiche: Quiche Lorraine
5€
Emys Plate: white ham fries
5.50€
Vegetarian Tacos: bell pepper, cheese, avocado, tomato
5.50€
Panini with "faux Nutella" without palm oil
3.50€
Numerous shaded picnic spots under trees or parasols await you.
Souvenir Shop in the Land of Turtles
You can take a small souvenir from the park's shop, 100% turtle-themed and at affordable prices. Plush toys, magnets, blue or pink t-shirts for children, thimbles, but also small ceramic turtles made by local artisans.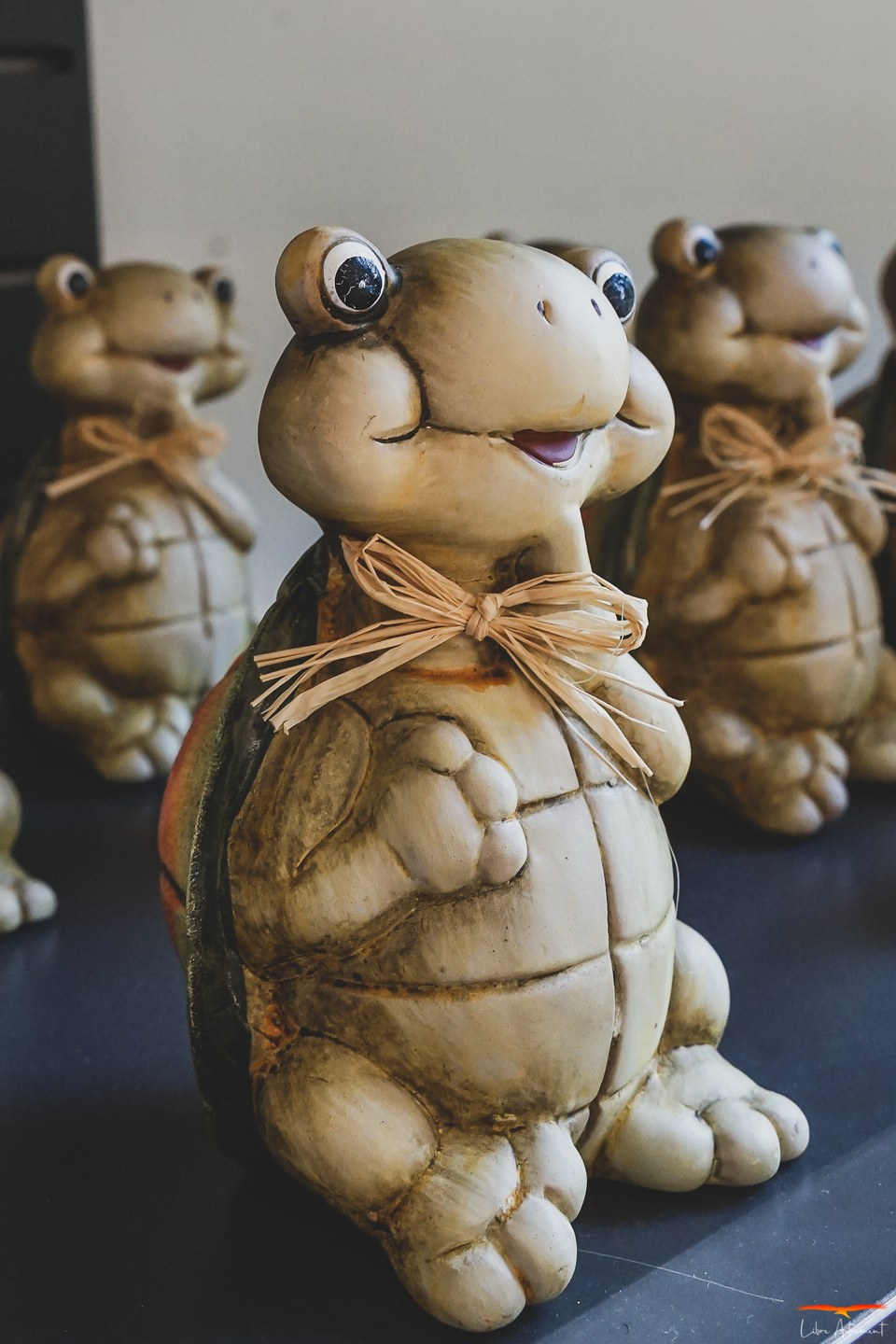 Information:
Picnic Area
Bar / Restaurant
Souvenir Shop
Accessible to people with reduced mobility
Pets allowed on a leash
WIFI point
Free visits
Guided tours on request
Groups accepted
Park Entrance Fees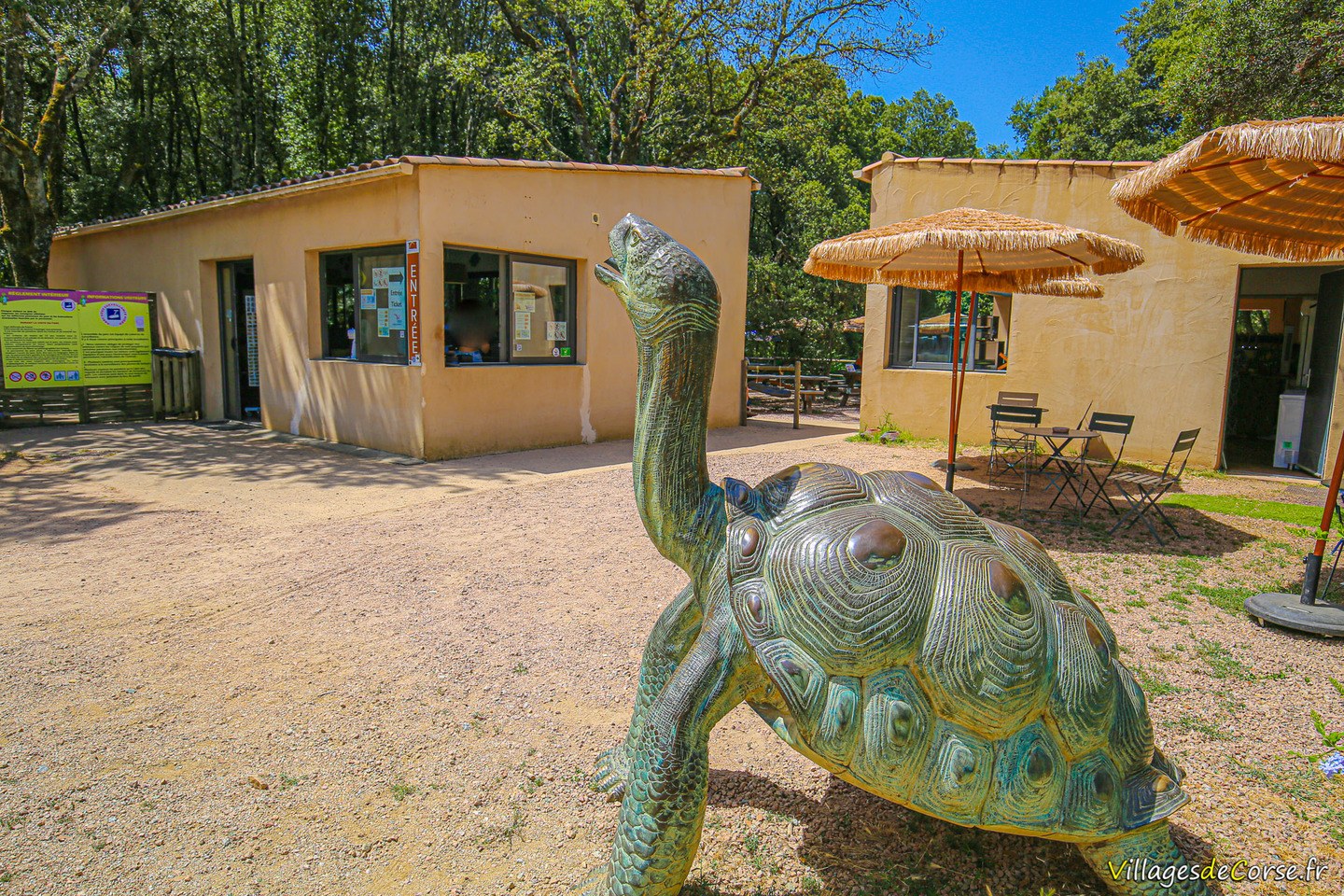 The park's prices can be found below:
Adults (from 12 years old)
13.00€
Children (5 to 11 years old)
10.00€
Young children (under 5 years old)
Free
Group rates
On request
Leashed dogs allowed
Realization
Report, photo and video made by Valentine Carré Photographer
Address and Contacts
Phone
04 95 52 82 34 - 06 25 77 56 35
Email
Send an Email to A Cupulatta
Address
Sur la T20, Direction Bastia, KM21, 20172

Veru

Opening Time or Period
Open 7/7 from April to October (including holidays)
1 April to 15 May – From 10:00 to 17:00
16 May to 15 September – From 09:00 to 18:00
16 September to 11 November – From 10:00 to 17:00
Google Map
See A Cupulatta on our Map
Website
A Cupulatta
Social Networks