Cors'Aventure in Bocognano - The Richiusa canyon
Canyoning in Corsica in Bocognano near Ajaccio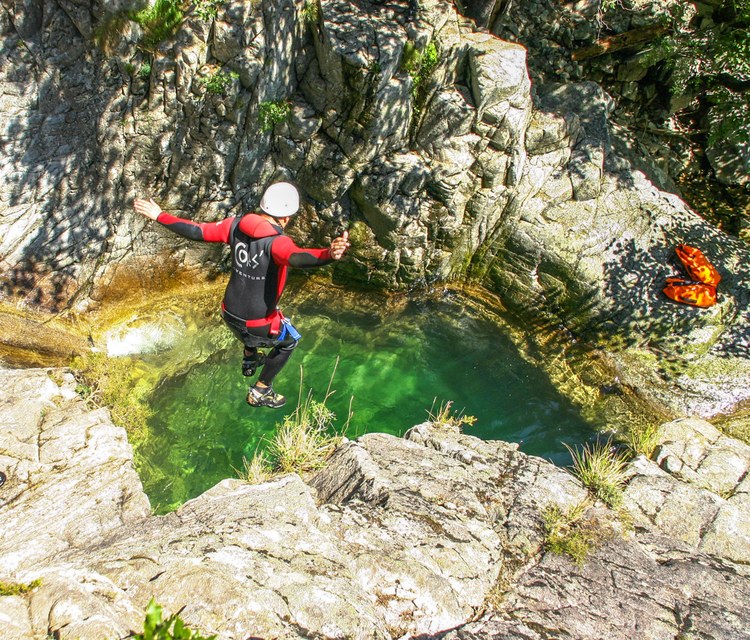 Nature Sport since 1990
Cors'Aventure, pioneers in the development of canyoning in Corsica and the exploration of the Richiusa canyon since 1990, aim to make the exceptional nature of Corsica the launching pad for your sports activities.

This adventure has been going on for more than 30 years and was recently rewarded by being elected Adventure company of the year 2018 in Corsica by Travel and Hospitality Awards.
Professional monitors at your service
Between sports and discovery activities, you will be accompanied by state-certified professional monitors throughout your expedition. Cors'Aventure also has a fleet of minibuses and a public transport permit to ensure transportation for supervised itinerant stays.
Canyoning in Richiusa at Bocognano - Video
This canyon has the particularity of being composed of successive obstacles combining recreational activities with the discovery of landscapes of a preserved Corsica. You will need to equip yourself with a swimsuit and a pair of sneakers, but if you do not have canyoning shoes, Cors'Aventure will offer them for rent for better comfort. In Propriano, you can also discover the Baracci Canyon.
Private base and refuge at the start of Richiusa
Canyon de la Richiusa
Private refuge
Aquatic hiking
Hiking
The meeting point is located at the Bar des Amis in Bocognano. For your comfort, you can prepare yourself at Cors'Aventure's private base at the foot of the Richiusa Canyon, visible in the video. This unique offer in Corsica allows for a welcoming environment under the best conditions:
Free private parking
Changing rooms
Drinking water, sink, WC
Closed storage space for participants' belongings
Tables, benches
The Cors'Aventure refuge, with a capacity of 15 beds, is located right next door. It is possible to stay there during multi-activity trips or hikes, and it can be rented for private events such as seminars.
Cors'Aventure Rates - Online booking
Bocognano
Richiusa Canyon
Soccia
Zoicu Canyon
Vivario - Vecchio
Aquatic hiking
Itinerant hiking
GR20 south (1 week)
55 € / person
50 € / person for families
60 € / person, sporty version
90 € / person
starting from 795€ / person
Book online
The list does not include other activities. Note that group rates are decreasing and checks, holiday checks, and credit cards are accepted. Despite the combination, it is recommended to know how to swim for water activities, and swimming tests may be conducted for minors.
Family or Friends Activities
Cors'Aventure offers several sports activities that adapt to each level of difficulty:
Canyoning
River Kayaking - Sea Kayaking
Mountain biking
Hiking
Climbing
Itinerant stay, multi-activities
Year-round Activities
While water activities such as Sea Kayaking in Isolella and Canyoning sessions take place for a large part of the year from April to October, Cors'Aventure remains open all year round for activities such as climbing, hiking, and mountain biking for groups ranging from 5 to 20 people.
Equipment
You will be prepared by a state-certified instructor who will equip you with a neoprene wetsuit tailored to your size according to the water temperature, as well as a helmet and a harness. The adventure begins with a 45-minute walk through the maquis, followed by about 2 hours of descent using natural slides, jumps to be made between 2 meters and 10 meters (which are not mandatory), and 10-meter rappels. The return journey ends with a 15-minute walk.
---
Discover the Canyon du Ziocu in Soccia
The Canyon du Ziocu (or Zoicu) is located in Soccia, 1h45 from Ajaccio and an hour from Sagone. You will discover a complete site with waterfalls through a technical and narrow canyon. This canyon consists of two parts, an open and playful first part with jumps between 2 meters and 8 meters (which are not mandatory), passing from pools to pools through natural water slides or by jumping. All while being in a completely different setting.
Aquatique Hiking in the Vecchio
Since summer 2018, Cors'Aventure has been offering a full-day aquatic hiking tour in the Vecchio River near Vivario for the months of July and August. A favorite for this new activity in a preserved and very little frequented setting.
Unlike canyoning, aquatic hiking is done without ropes or rappelling. You will follow the course of the Vecchio alternating between swimming (floating), toboggan descent, and jumps into the river to be done according to your will. In the middle of the day, the team stops to eat by the river with picnics kept all along the descent in waterproof canisters.
The group is made up of a maximum of 12 people with equipment of wetsuits, helmets, and shoes.