E Cime Asco Residence - Studio and T2 Apartment Rentals
Residence E Cime - Ascu
The E Cime residences are located 25 minutes from Ponte-Leccia in the Asco Valley, nestled amidst high mountains where the Monte Cintu peak is situated. You will be just 20 minutes from the Asco ski resort, which lies at the crossroads of hiking trails and the GR20. For the past 16 years, both summer and winter, Daniel and Marie-Jeanne have been welcoming you to this unique setting, with 4 studios and a T2 apartment available for rent all year round, as well as the E Cime restaurant.
Check-in is available any day of the week, and rentals must be vacated by 9:30 a.m. on the morning of departure.
Restaurant from July to August
Restaurant opening period
In the year 2023, the restaurant will be open in July and August, offering a small menu of quality dishes. After 38 years in the catering business, it is with a heavy heart and due to health reasons that Mr. and Mrs. Franceschetti have decided to reduce the restaurant's opening period and menu.
Four Studios and a T2 with Kitchen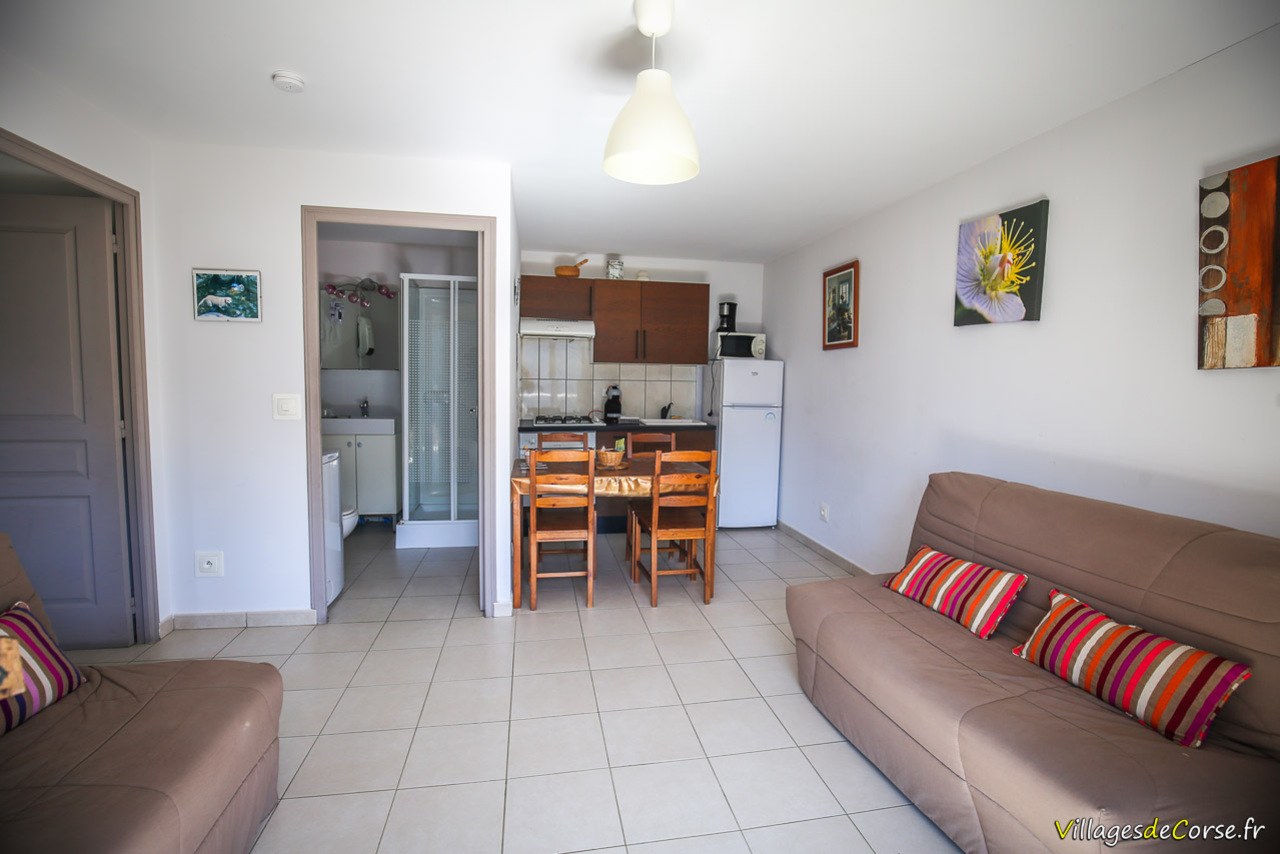 Restaurant, inn, Daniel and Marie Jeanne built everything in 2007 before converting the guest rooms into apartments in 2021 to become the E Cime residences.
For 2 to 4 people
All year round, you will find 5 rentals divided between 4 studios and a T2 apartment that can accommodate between 2 and 4 people.
Kitchen, bathroom
The residences are fully equipped: TV, air conditioning, Wi-Fi. Sheets and towels are provided. The kitchen is also fully equipped: refrigerator, freezer, cutlery, pots, colander, frying pan, dishcloths, coffee maker.
Each rental has a terrace or balcony overlooking the Asco Valley.
The E Cime inn has a Wi-Fi access for connecting to the internet. A shared vacuum cleaner is also available, as well as a washing machine.
Photos of the rentals
Studio 1
Studio 2
Studio 3
Studio 4
T2
Rates for the rooms and the studio
Rental from a minimum of 3 nights in summer, and 2 nights in winter.
Rooms
Studio T2 Meublé
Overnight stay
2 people
90€
Week during the season
April to September
Saturday to Saturday
580 €
3 people
105€
4 people
115€
Overnight stay
95€
The establishment accepts payments by credit card and vacation checks.
After running a sports complex and owning the pizzeria A Rusta in Monticello, it was by vocation, and by love of the region, that Daniel and Marie-Jeanne Franceschetti wished to return to their roots in 2007, with the support of the locals and the municipality, in this small mountain village 25 minutes from Ponte-Leccia, a crossroads of Corsica.
Address and Contacts
Phone
04 95 47 81 84
Email
Send an Email to E Cime
Address
Quartier Costa, 20276

Ascu

Opening Time or Period
Rentals available year-round.
Restaurant open from July to August
Google Map
See E Cime on our Map
Website
E Cime
Social Networks