Restaurant in Vivario, U Campanile - Corsican Hotel
The Restaurant and Hotel U Campanile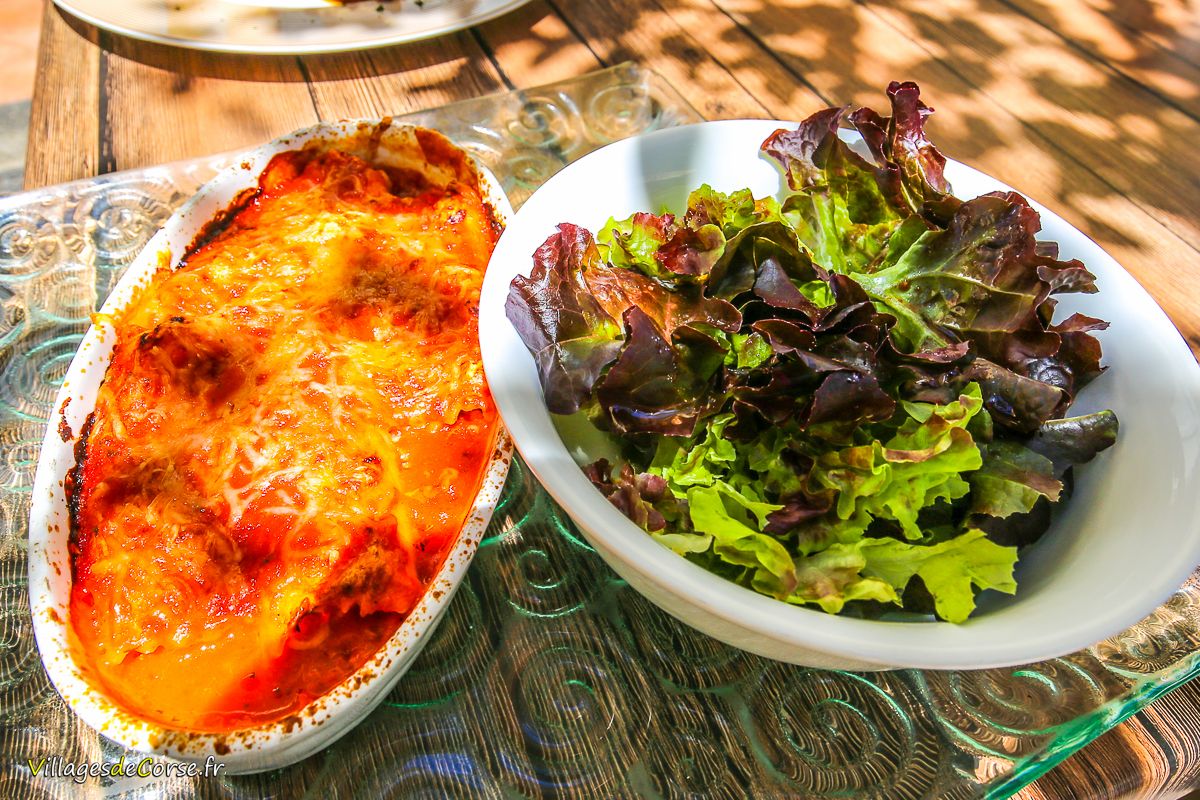 Open all year round, the Restaurant and Hotel U Campanile is located in the mountainous region of Central Corsica near the GR 20, between Ajaccio and Corte in the Corsica Regional Nature Park. Rated 9/10 on booking, customers highlight the good cuisine of the restaurant, the cleanliness of the rooms, and the homely welcome of the hotel, with good value for money.
Restaurant U Campanile
In the dining room or on the flowered terrace overlooking the mountain, Marc and Karine, assisted by their son, offer traditional Corsican recipes skillfully cooked by Karine. Whether passing by or a hotel guest, you have the option in this case to choose a half-board or full-board plan.
Wood-fired Pizza (in the evening)
Since 2023, the establishment also operates as a pizzeria, offering traditional pizzas on the menu, which you can order and consume on-site or take away.
Menu of the Restaurant 2023 U Campanile - Pizzeria
30 Euro Set Menu
Plate of charcuterie or Leek fritters or Corsican soup or Mountain salad or Herb pie
Lamb leg or Veal Tianu or Wild boar Tianu or Cannelloni with brocciu or Courgettes with brocciu or Corsican-style tripe
Cheese or Dessert

Starters
Leek fritters
10€
Corsican soup
12€
Herb pie
9€
Corsican Plate: Ham, coppa, lonzu, sausage, cheese, leek fritters, green salad
23€
Corsican charcuterie plate
18€
Farmhouse ham plate
20€
24-month AOP ham plate
25€
Mountain salad: salad, tomatoes, Corsican cheese, Corsican ham, olive oil, basil
13€
Campanile salad
13€
Shepherd's salad
13€
Exotic salad
13€

Main Courses
Cannelloni with brocciu
17€
Courgettes with brocciu
17€
Corsican-style veal tripe
17€
Veal Tianu
17€
Wild boar Tianu
17€
Lamb leg
18€
Grilled rib steak
24€
Grilled escalope
18€
+ sauce (Roquefort, forestière, pepper)
+3€
Chef's burger: tomato, salad, butcher's ground steak, Emmental, foie gras
22€
Classic burger: tomato, salad, butcher's ground steak, Emmental
16€
Pasta Roquefort, forestière, vegetarian
14€

Desserts
Corsican cheese platter
9€
Pear and hot chocolate Charlotte
8€
Red berry Panna Cotta
Homemade frozen nougat
Fresh fruit salad
Homemade apple tart
Chocolate profiteroles
Homemade flan
Gourmet coffee
10€
Salge Ice Cream (per scoop)
2.5€

Children's Menu at 14€
Butcher's ground steak or chicken nuggets
Homemade fries or pasta
Choice of drink
2 scoops of ice cream
On the restaurant's menu, a traditional cuisine.
The menu consists of products from the local region, including Corsican charcuterie, herb pies, assorted salads, leg of lamb, forest-style escalope, grilled rib steak, vegetarian pasta, and a cheeseburger option. The selection of island wines is complemented by digestifs such as wild maquis and mountain fruit liqueur.
30-Euro Menu
The desserts are homemade, with all the products sourced from the region.
Restaurant and Hotel in Vivario, Central Corsica
The Hotel has been fully renovated in an imposing stone building, equipped with a large shaded terrace for dining or enjoying breakfast. The family business has been managed for 12 years by Marc Marietti and Karine, his wife.
The Hotel Rooms
The U Campanile hotel has 5 air-conditioned rooms with parquet flooring, double glazing, flat-screen television, Wi-Fi internet connection, separate bathroom, heated in winter by central heating.
Some rooms have a balcony overlooking the church square and a beautiful view of the mountain.
Room Prices - Same Rate All Year
With a capacity for 2 to 3 people, the rooms are divided into:
| 3 Double Rooms | 2 Triple Rooms |
| --- | --- |
| Spacious rooms - 140 cm bed | Rooms with 2 140 cm beds and a 90 cm bed |
| 80 euros | 90 euros |
The establishment accepts payments by credit card and check. The price of the rooms does not vary according to the season.
Hiking and the GR 20
A mountain village that hosted a stage of the 2013 Tour de France, Vivario is rich in outdoor activities, a stopover for hikers served by the RN 193.
To guide you, IGN maps offer itineraries through pine forests, notably above the Eiffel bridge where the Vecchio river flows.
Near Corte, by going up the Restonica, there are also very beautiful glacial lakes to explore, as well as many other easy-access excursions. For any information, do not hesitate to ask Karine and Marc who will provide you with precise details.