Atraverre - Corsican Artisanal Glassware in Calvi
6 products available on our partner site BrindeCorse.fr
Price Range : 15,00€ 40,00€
Atraverre is a Corsican glassware shop located in Calvi. In her workshop, Virginie Torrelli—a glass artisan—creates handmade glass jewelry such as rings, necklaces, bracelets, pendants, as well as art objects in glass with sparkling reflections. The shop is located on the right-hand side, 30 meters from the entrance of the Citadel of Calvi.
Shop at the Citadel of Calvi
Founded in 2010, the artisanal glassware Atraverre came to life in the region of artisans in Balagne, a true crucible of talents. After her studies in Martinique and having acquired the National Diploma of Art and Techniques from the Regional Institute of Visual Arts, Virginie Torrelli initially worked in graphic design before finding her calling in glassware under the guidance of a master glassmaker in Paris.
Open Every Day
The shop is open from Monday to Saturday from 10 a.m. to 12:30 p.m. and from 2 p.m. to 5:30 p.m. The hours may vary according to the season; you can find them on the glassware's website under the
points of sale
section, at the bottom of the page.
Fused Glass Maker
Virginie is a fused glass maker, employing the fusing technique, which consists of melting the glass by assembling pieces across multiple layers to form a single piece. The glass's contour is shaped through thermoforming using a mold to give the glass its shape.
The Atraverre Glassware shares the shop at the Citadel of Calvi with Marie Restitude from Jewelry By Bulles
and Martine Sanchez from Seconde Vie Creation, three artisans offer a greater variety of choices at the heart of the Calvi Citadel.
Award for the Ladies Open of Calvi 2023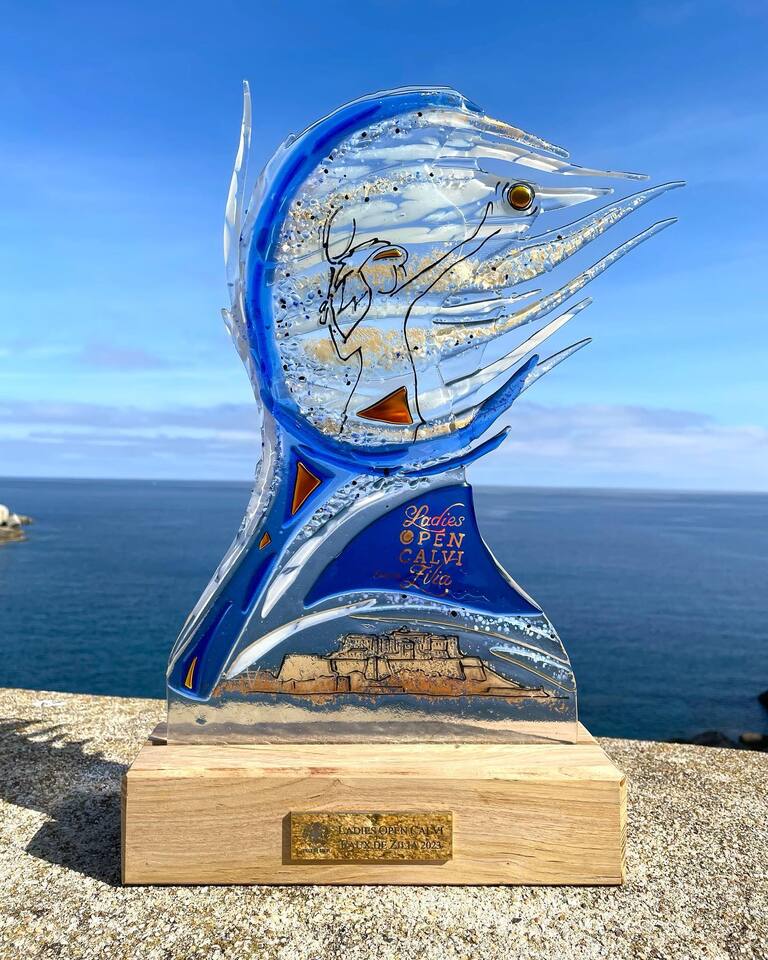 Virginie crafted the trophy for the Ladies Open of Calvi 2023 in collaboration with Eaux de Zilia, as well as the trophy for the Calvi Nautical Club.
These works employ a universe of reflections and colors, with light playing on transparencies.
Handcrafted Glass Jewelry - Home Decor - Art & Deco
Virginie creates glass sculptures, picture holders, lamps, vases, and table art, as well as Corsican handcrafted glass jewelry: rings, pendants, earrings, and the Eye of Saint Lucy whose symbol is etched in ink and gold. Each piece is unique and sometimes comes with a small note or a quote evoking tenderness, humor, or reflection. From resplendent glass jewelry to radiant lamps that warm up a room, it's a world of a thousand glimmers made up of interplays of light and color that can be found at the Calvi shop.
Mirrors
Wall Clocks, Wall Lights, Lamps
Dishes, Cake Dishes, Trivets
Jewelry: Earrings, Pendants, Necklaces, Rings
Art & Deco
Please note that due to shipping conditions, the flattened glass bottles are no longer available for Colissimo shipping but remain available in the shop.
Combining Glass with Wood and Metal
Wireframe objects are a marriage between glass and metal, or the inclusion of a steel wire in the glass to provide structure or functionality, as in the case of picture holders. Virginie also collaborates with local cabinetmakers to combine glass with driftwood, resulting in even more original and artistic creations—objects with brilliant hues that create interplays of light when paired with lamps.
| | |
| --- | --- |
| Jewelry | Necklaces - Pendants - Earrings - Bracelets - Brooches - Rings |
| Interior and Decor | Mirrors - Lamps - Candle Holders - Wall Lights - Light Fixtures - Magnets - Soap Dishes - Clocks - Sculptures - Paintings |
| Kitchen | Dishes - Dishes - Appetizer Trays - Trivets - Salad Bowls - Fruit Bowls - Appetizer Tray made from recycled Pietra bottles |
| Utilities | Vases - Containers - Mobiles - Chimes - Trays |
Step-by-step Creations
Different Types of Glass Used
Virginie uses lead-free powdered enamels, liquid gold, steel, aluminum, and kanthal for four types of glasses, the use of which depends on the object being made:
Mail Order and Online Sales
Atraverre Glassware offers the possibility to order online through its website or by phone.
Each item is protected during shipping. Payments by check and wire transfers are accepted, as well as by credit card.
Return to Calvi After 6 Years in Pigna
First established in Calvi from 2010 to 2017, Virginie Torrelli moved the Atraverre store to the alleys of Pigna in 2017, above the A Casarella restaurant. Her workshop remained in Calvi for the creations that require space, including large bell ovens for melting glass.
History
2010: Establishment in Calvi on Sainte-Marie Street
2017: Store moved to Pigna
2020: Creation of a new store in Calvi Citadel in addition to the one in Pigna
2023: Closure of the Pigna store, keeping only the one in Calvi Citadel
Promoting Corsican Craftsmanship
The glass artist closely collaborates with other craftsmen from Balagne, blending their expertise. She is also involved on an associative level, being a former president of the Balagne artisans' association, Strada di l'Artigiani, and currently serving as vice-president.
Workshops for Children Starting at Age 7
Atraverre introduces children to the magic of glass through introductory workshops where they learn to assemble glass and patterns. Virginie then collects each creation to heat it in the workshop before returning it to the children once completed.
Other Photos