Jewelry by Bulles in Calvi - Bronze Jewelry
Published on 05/10/2023 | Updated 2 months
Marie-Restitude Millien has been crafting bronze jewelry in her Calenzana workshop since 2016; her creations are displayed at the citadel of Calvi and are available online.
Bronze Work in Calvi
Marie-Restitude shares the Calvi boutique with Martine of 2nde Vie Création, and Virginie Torrelli from Verrerie Atraverre.
The boutique's opening hours are from Monday to Saturday, from 10:30 a.m. to 1:00 p.m. and in the afternoon from 3:00 p.m. to 6:00 p.m.
Her Journey
Marie-Restitude has honed her skills in working with bronze and metal clay, and she plans to work with other metals like silver and copper in the near future. She employs the Art Clay Silver method of bronze work, which originates from Japan. Marie-Restitude has completed two of the three levels of training under Sabine Alienor. Her work was sent directly to the Japanese archipelago, the only country authorized for validating this training.
The methodology and firing process are similar to pottery. For each piece, Marie-Restitude uses metal particles that are mixed with an organic binder. Under the influence of heat, the binder burns off, leaving only the metal particles to sinter.
Rings, Pendants, Earrings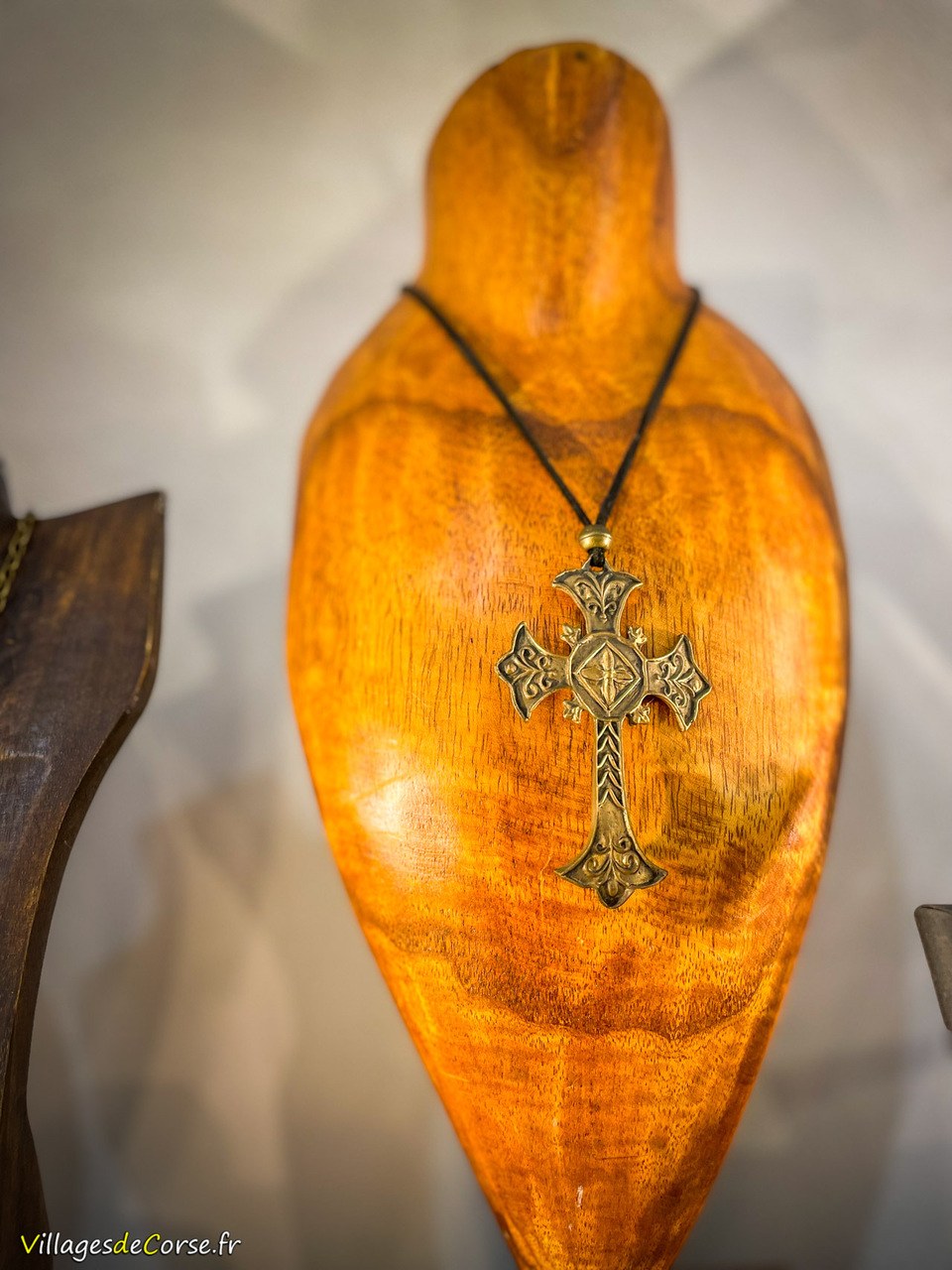 You will find all types of jewelry and objects at the boutique: rings, signet rings, standalone pendants or on necklaces, earrings, but also magnets, bookmarks, scarf rings, sarong clasps, and keychains. The creations are divided into three categories:
Identitarian: Corsican medallions, seal of independent Corsica from 1762, Moor's head, soldi (reproductions of Corsican currency)
Religious: Cross pendants, Sainte-Restitude medallions, Rosaries, Angels
Flora and Shapes: Leaf, vine, flower, star
Reproduction of Corsican Currency
In the time of Pascal Paoli in the village of Muratu, Corsican currency was minted in silver and bronze coins (i soldi) at the Mint Palace (A Zecca). Marie-Restitude offers a reproduction of this Corsican currency, including "u quatrinu" (billon).
Sainte-Restitude
A highly observed feast in Corsica and Balagne in the village of Calenzana, Sainte-Restitude was a martyr who is said to have performed a miracle by saving the village from the plague in the 4th century. Each year, a procession is held in her name.
For Marie-Restitude, who bears this noble name, the symbol holds even greater significance since her first fair was that of Sainte-Restitude. Whether by coincidence or fate, today, Marie-Restitude proudly crafts jewelry representing this Saint, constituting a broad spectrum of her offerings that are both religious, identitarian, and local as they are closely linked to Calenzana where her workshop is located.
Restaurant U Spuntinu in Calenzana
Marie-Restitude and her husband are the owners of the restaurant U Spuntinu in Calvi. It is located on the road to Calenzana at a place called A Cappella.
You can enjoy seafood, local charcuterie, and boards of regional charcuterie and cheese there.