Corbara Pottery in Balagne - Antoine Campana
Antoine Campana has been a potter in Corbara for over 37 years. His pottery workshop, located a few minutes from Île Rousse, has nurtured numerous talents. Here, stoneware is shaped to produce dishware, plates, ashtrays, vinegar jugs, and many other handmade pottery items, available for online purchase.
Corsican Craft Pottery since 1986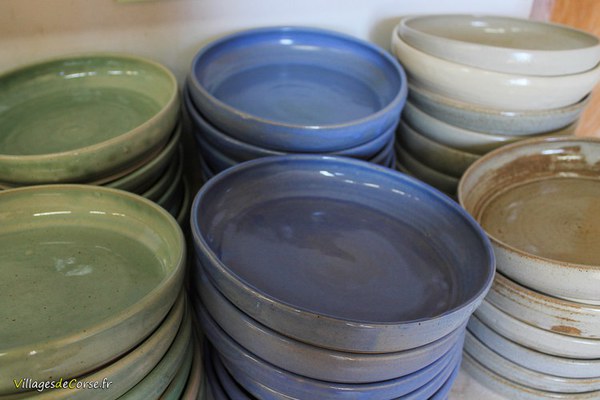 For 37 years, pottery has become the art of living for Antoine Campana, following an encounter with the potter from Pigna in Aregno during the 1980s.
Recognized as an artisan and having practiced with the same passion for so many years, Antoine is also a member of the association Strada di l'Artigiani, "the craftsmen's route" of Balagne, aimed at promoting the craftsmanship and know-how of the Balagne region.
All creations from the Corbara workshop are made from wheel-thrown stoneware, seeking simple and pure shapes, with a choice of solid or composite colors.
The Corbara workshop is located 4 km from the city center of Île-Rousse, not far from Calvi. Credit cards are accepted.
Zeineb Delage to succeed
Since 2019, Zeineb has joined Antoine in the world of pottery. Each with their own kiln (gas and electric), Zeineb displays her vibrant artistic creations throughout part of the store. The Corbara potter, who was seeking someone to take over the business when he retires, is now assured to see his workshop remain open for many more years to come.
Interior Items - Dishware Services - Decoration
The workshop houses various everyday objects, from terracotta plates of varied sizes and shapes, to pitchers, egg cups, vinegar jugs, and ashtrays. Full kitchen services in stoneware are available, which, in case of breakage or loss, can always be found at the workshop, along with dishware and decorative interior objects:
Pencil holders, toothbrush holders, soap holders, lavender diffusers, incense holders
Dishware, flat or deep plates, dishes, trivets, small bowls, cups
Salad bowls, pots in 3 sizes, egg cups, bottles, round bottles, gratin dishes, cheese bells, garlic pots, fruit baskets, appetizer pots.
Glasses, straight cups, round cups, saucers, mugs, tankards, bowls, teapots, pitchers, carafes, liqueur glasses, liqueur services, small dishes.
Salt shakers, pepper shakers, vinaigrette services, vinegar jugs, gravy boats, sugar bowls, flasks, mustard pots
Vases, small vases, pitchers, tealight holders, candlesticks, perfume burners, ashtrays, funnels, terrines
Antoine Campana works for a loyal and longstanding clientele, including foreigners (Germans, Italians). The artisan potter uses the wheel and a gas kiln, the flame of which brings particular colors and hues. The firing process extends over 4 to 5 hours at temperatures reaching 1280°. Throughout the year, he manufactures directly on-site in his workshop, where you can find him during opening hours.
Firing in the Gas Kiln
Handmade Pottery Available Online
Since November 2020, Corbara's artisan pottery is also available for online purchase. At the top of the page, you will find selected creations that are suitable for shipping: bowls, cups, salad bowls, ashtrays, egg cups.
Throwing Video
Tournage
Clip Strada di l'Artigiani
Rencontres balanines
Antoine Campana
Discover four videos of Corbara's pottery, including the full throwing of a salad bowl.
Association - Strada di l'Artigiani
They are glassmakers, potters, cutlers, jewelers, luthiers, olive growers, beekeepers, or winemakers, in Calenzana, Cateri, Algajola, Olmi Capella, Feliceto, Calvi, Occhiatana, Lumio, Corbara, Santa Reparata, and Pigna, and they open their workshops and recount their day: Damascus steel, bronze foundry, Raku ceramics, essential oils, mosaic, bubble blown glass, faience or stoneware pottery, cow or lamb leather, gold or silver jewelry...
And you listen, glass in hand, cake in mouth, to the sound of the pirula and the cetera. And you no longer know if it's the object you're really looking for, or the encounter with the person who made it.
Address and Contacts
Phone
04 95 60 23 37 - 06 12 69 30 66
Email
Send an Email to Poterie de Corbara
Address
Carbunaghja, 20220

Curbara

Opening Time or Period
April through All Saints' Day, 10am to 12pm and 4pm to 6:30pm, except Sundays
July and August: every day from 10am to 12pm and 2:30pm to 7pm
Winter by appointment
Google Map
See Poterie de Corbara on our Map
Social Networks