Corsican Handmade Jewelry - Coral and Semi-Precious Stones - Corbara
Published on 28/07/2023 | Updated 1 months
Between Calvi and Ile Rousse, Hélène Cancela has been crafting jewelry for 28 years in her Corbara workshop. These are artisanal jewels of coral or semi-precious stones set in silver, gold, or bronze. Necklace, torque, bracelet, pendant, adjustable ring, and earrings are available in the boutique as well as online.
Bronze, Silver, Gold-plated, and Semi-Precious Stone Jewelry
Atelier
Clip Strada di l'Artigiani
Creating jewelry since 1995, Hélène Cancela's workshop is a little treasure trove located in Balagne on the coastline of the Corbara community, 600 meters from Bodri Beach, and listed by the Route des Sens. Indicative panels are visible 2km after the exit of Ile-Rousse towards Calvi below the T30. At the end of a small paved road about a hundred meters long, there is a tree-lined parking lot on the right with chimes. It is on the ground floor of the family house where a magical universe of reflections and light is found, amongst semi-precious stones, golden adornments, and those of bronze or silver. The BdeH Jewelry Workshop exhibits and sells its jewelry all year round and online.
Finger Adjustable Ring
Adaptable to the finger, you will find rings adorned with one or more stones, wedding band type rings, simple bands, signet rings or cuff rings.
Corsican Bracelet for Men, Women, and Children
For a family visit, discover bracelets of different shapes and styles: cuff bracelet, bangle or half-bangle, coral bracelets. There is also the possibility to create a personalized bracelet with the engraving of a name or a date.
Necklaces - Pendants - Torques - Earrings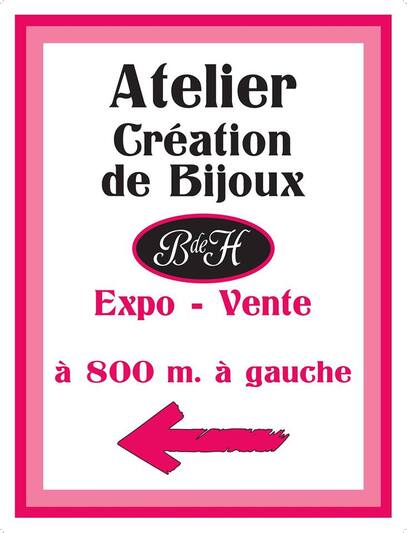 Necklaces for women are crafted with etching, which can be matched with bracelets or earrings as well as angel callers. You will also find choker necklaces and torques to wear in the evening. The pendants are sold as is with stones set in silver or bronze, or already installed on a necklace. You will also find pendants shaped like Corsica.
Pendants
Earrings
Eye of Saint Lucy
Discover the symbolism of these jewels through the History of Saint Lucy. Very common in Corsica and throughout the Mediterranean region, the Eye of Saint Lucy adorns earrings, pendants, bracelets, or necklaces. It is genuine, coming from shells gathered on the island's beaches.
Semi-Precious Stones
Rose Quartz
Composed of silicon dioxide and manganese and titanium, this stone of pale pink calls for tenderness and serenity. It also embodies femininity and emotionality. It is found particularly in Brazil and Madagascar

Rhodochrosite
The little sister of rose quartz, rhodochrosite is also a pink stone with a darker hue, composed of carbonate and manganese, found from Mexico to the southern United States

Aventurine
This is a green stone composed of fuchsite or muscovite (Moscow stone), found in Brazil, China, and India

Carnelian
Carnelian is a stone of a fairly uniform coral red color from Latin America and India

Amethyst
Of a purple color, amethyst is composed of silicon dioxide, iron, and manganese. It is found in Europe, Latin America, Russia, and Madagascar. In lithotherapy, it is said to help fight drunkenness and intoxication, and promote sleep. It embodies humility and stimulates creativity. The workshop also has genuine amethyst geodes, again with a certificate of authenticity

Pyrite
with a golden look also called fire stones or fool's gold, composed of iron disulfide, it is found in Western Europe (France, Italy, Spain) as well as in Slovakia and Peru
The jewels are worked with semi-precious stones of various solid or textured shades such as rhodonite, hematite, or Moss Agate. All stones come with a certificate of authenticity.
Stones and Coral from Corsica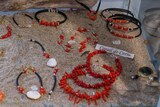 Primarily Corsican stones are used: fluorite, rock crystal, pyrite, rose quartz, serpentine, amethyst. Limited edition bracelets, pendants, and necklaces made of Corsican coral are also on display. Hélène treats the stones without damaging them, they are not set, the polishing tries to continue the natural course of the action repeated by the sea.
From Fine Arts to Jewelry
After art school, Hélène graduated with a Masters and Spanish Capes, LEA, English Degree and translator. Having always frequented the artistic milieu, Hélène's passion took over at the University when she undertook to create handmade jewelry to earn pocket money. She left everything to return to Corsica to Ile-Rousse in her grandparents' residence where she used to spend her vacations. This is where she currently runs her jewelry design studio. Hélène Cancela is part of the Strada di l'Artigiani - The Craftsmen's Route of Balagne.
The workshop is also the goldsmith's workplace, where many soldering tools, wax molding, cutting machines, grinding wheels, and chemicals for etching with nitric acid mix. Other chemical processes such as electrolysis may be involved but are performed by an intermediary with the equipment.
Jewelry Prices
The jewelry is sold directly at the workshop, in the markets, or ordered by mail or online below. The price is designed to be affordable, you will find most of the jewelry for less than 100 euros and for all budgets. Prices range from 10€ for children's bracelets to 25€ for Saint Lucia's eye, up to 75€ for etched bracelets and 110 euros for elaborate cuff bracelets. The prices of earrings and rings generally range from 40€ to 60€, with a few exceptions.
Rent New Semi-Detached Mini-Villa
Hélène has a vacation or year-round rental, a mini-villa in Corbara next to Île-Rousse. You will have a outdoor terrace overlooking the sea and a flowered and wooded garden on a private property of 5000 m². The parking is large and shaded with access to the rental by car.
With a capacity of 2 to 3 people for 45 m², the villa has a double bedroom, a living room, a new kitchen, a terrace with sea view, sleeping space (BZ) for 2 people in 140, American kitchen (Washing machine, dishwasher, 4-burner ceramic hob, fridge-freezer, microwave, toaster), a bathroom with shower cabin and toilet. Kitchen linen provided, hair dryer, iron, barbecue, TNT, TV, WIFI, you will not lack anything.
Note that pets are accepted. The place is quiet and peaceful, without traffic noise in the heart of Balagne and 350 meters from the sea. Only 800m separates you from two beautiful sandy beaches, one of which is supervised. The Leclerc hypermarket is 500m from the exit of Ile Rousse with a nearby pharmacy, you can also enjoy an outdoor cinema.
Hélène will point out the good spots in the Balanine region; seasonal fruits and vegetables, island products, beauty institute, spa, massages, golf, sports center with swimming pool, hiking trails, restaurants, nightclubs, from Ile-Rousse to Calvi.