Kayak in Isolella - Porticcio - multi-day trips
Sea Kayaking in Corsica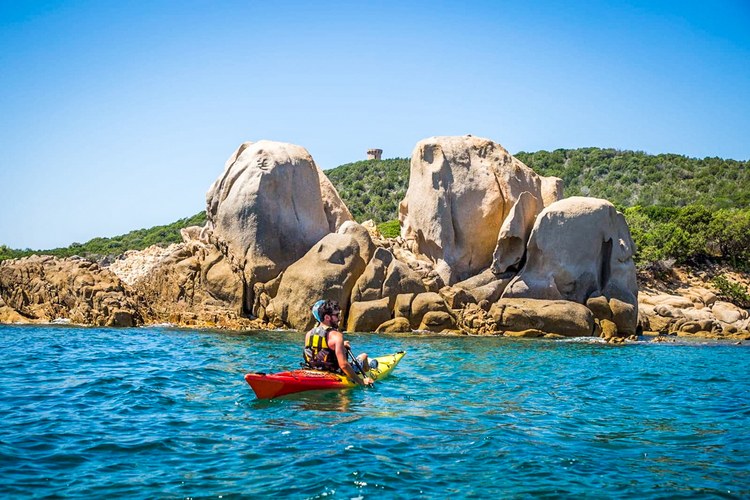 Cors'Aventure takes you to the most beautiful parts of Corsica's west coast, from Ajaccio to Propriano. The turquoise waters of its many coves contrast with the red volcanic origins' rocks, where you will discover at sea some of the most preserved sites like the Isolella peninsula.
Fast and malleable, the kayak gives you the chance to slip between craggy rocks, where a speed boat could not pass. This is the ideal way to discover unusual sites like deserted coves or natural caves, while respecting and protecting the environment, paddling with your arms only.
Biggest kayak fleet in France
With the biggest kayak fleet in France and an experience dating from 1990, Cors'Aventure takes you every season to those natural sites, from half-day to full week expeditions. The company has partnerships with holiday camps, hotels, resorts and camp sites like hotel club Marina Viva in Porticcio or Grand Bleu in Calcatoggio.
White water
In April and beginning of May, during the thaw, Cors'Aventure proposes a start of the season with white water activities on the Tavignano river.
Canyoning
Cors'Aventure also offers canyoning with the Richiusa canyon in Bocognano, and the Baracci canyon in Propriano.
One week sea kayaking trip
From May to September, start your all-inclusive one week expedition on your kayak becoming one with nature. Your program, wild camping bivouac on the beach, gazing at the stars, lunch box and hot meals prepared all together for dinner on the beach. Around 18 sessions are planned from May to September, all from Sunday to Saturday, bookable directly online from today, please see the below rates table.
Kayak excursion - Videos
Have a look at the official Cors'Aventure kayak excursions videos, as well as a report from the french national tv channel "France 2" about kayak expeditions in Corsica.
Séjour en Kayak itinérant
Kayak à Isolella
Reportage France 2
The hidden coves of the beauty island
This 7 days itinerary will leave from Ajaccio towards the south of Corsica, passing by the Castagna peninsula, Propriano to finally reach Figari's gulf. This expeditions represents paddling one quarter of the Corsican west coast.
The rocky inlets of the beauty island
Discover the most famous and notable sites of Corsica like the calanches de Piana, Porto, Girolata and the Scandola nature reserve, kayaking. There are all part of the UNESCO world heritage and your kayak will give you the chance to discover its many caves and coves.
New itinerary project
The Cors'Aventure team is currently working on a new itinerary that should be launched in May 2019, starting from Calvi and finishing in Porto.
Supervision by a state certified kayaking guide
Like any other activity proposed by Cors'Aventure, the trip will be supervised by a state certified guide during the whole week.
1/2 day kayak excursion in Isolella
To enjoy the best spots of the island of beauty on a short excursion, come discover the peninsula of Isolella, located south of Ajaccio, on the Pietrosella municipality. Accessible from 7 years-old, you will be given a paddling introduction before sailing.
The excursion is a half-day tour (morning or afternoon). Please allow your swimming suit/trunk, bottle of water, cap or hat, suncream, pair of water shoes and a t-shirt. To explore the sea floor, do not forget your snorkeling equipment.
Kayak rental in Porticcio - Stand Up Paddle - Pedalo - Sailing boat
For a private trip, Cors'Aventure proposes sea kayak rental, Prijon, perfect for a multi-day trip.
Moreover, from the 15th of June until the 15th of September, you can rent kayaks directly to their base located on the Viva Beach. Rentals go from a few hours to full days. You can rent kayaks, stand up paddles, pedalos and also « fun boat » (small sailing boat) as well as catamaran (HobieCat16) with the possibility of individual lesson with a state certified guide.
1 week kayak trip in Corsica
The hidden coves of the island of beauty
Ajaccio's gulf - Propriano's gulf - Furnellu (North of Figari and Bonifacio)
Have a look at the technical sheet
Low season : 605€
Mid-season : 665€
High season : 720€
Book online

1 week kayak trip in Corsica
The rocky inlets of the island of beauty
Calanches de Piana - Scandola Nature Reserve - Girolata and its fishermen port
Have a look at the technical sheet
Low season : 605€
Mid-season : 665€
High season : 720€
Book online

1/2 day
Kayak excursion Isolella Peninsula
Adult : 30€
Children (7 to 12 years-old) : 25€
Book online
Kayaking excursion rates
Group rates are applicable. Although a life jacket is provided, you must know how to swim for aquatic activities and swimming test can be done for minors.
Ecotourism
The kayak – One of the oldest boat of all time (more than 4000 years) is a means of transport, on water, among the most respectful of the environment. It has not changed since its creation, it is all about your arms strength for paddling without leaving any impact into the water. From food self-sufficiency to wild camps on the beach, the whole process of a multi-days kayak trip is definitly in line with ecotourism, where you agree for less comfort in order to make one with nature, without leaving any impact behind you. This is a fantastic way to break your routine and leave your smart-phone for a few days.
Technical sheet – One or two-seater kayak
You can opt for a solo sailing for more freedom in your one-seater kayak, or you maybe prefer join strengths with a partner or friend choosing a two-seater kayak. Life jacket, kayak skirts and paddles with be provided.
Your stuff will be taken with you into the waterproof chambers of the kayaks for total self-sufficiency. Sea kayaks have the necessary places to bring food, water, clothes. You can also plan to bring your phone and camera with a specific waterproof protection.