Grocery Store in Zonza - Corsican Products - A Muvra
Corsican Products and General Groceries
Located on the main artery of the village of Zonza near the Church of the Assumption, the A Muvra grocery store introduces you to the flavors of Corsica through its regional products in a meticulously stocked store. Its wooden architecture gives the place a warm atmosphere in this village of Alta Rocca perched at an altitude of 800 meters.
The A Muvra grocery store offers regional products, as well as general groceries, cosmetics, wicker baskets, Corsican knives, and even religious candles.
Corsican AOP charcuterie
Corsican AOP cheese
Jams, Honey, Terrines
Biscuits, homemade Canistrelli
Spirits, wines, beers, liqueurs
Wicker baskets, Corsican knives
Cosmetics, handmade soaps
Please note that the store - open 7/7 from 8:30 a.m. to 7 p.m. in the summer, and every winter morning except Sunday - acts as a deposit for bread and newspapers.
Corsican Fruits and Vegetables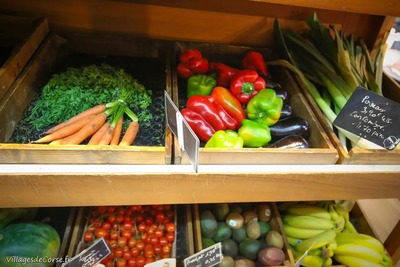 Fruits and vegetables, a good portion of which come from the island, are displayed on the outside stalls and inside. Depending on the season, Corsican tomatoes, beef heart tomatoes, Corsican watermelons, Corsican leeks and cucumbers, apples, Corsican oranges and lemons, grapes, chestnuts in October, and other local riches.
Farm Products
Charcuterie from Bastelica, Tavera, and Muratu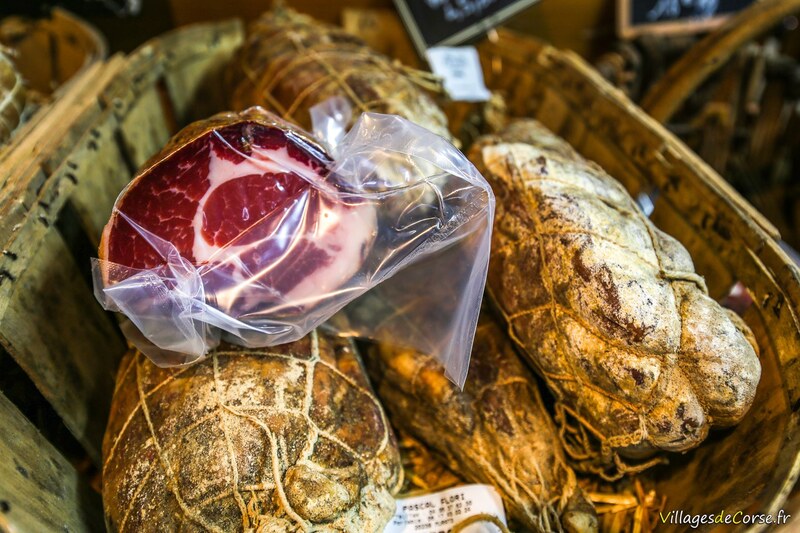 Essential Corsican gastronomy can be found right at the entrance of the store in the baskets of the central aisle, on display or the Corsican charcuterie hanging from the ceiling: AOP coppa, AOP lonzu, sausage, AOP prisuttu, panzetta, figatellu (in winter). They can be purchased individually, or in portions for prisuttu or coppa, or vacuum-packed in slices.
There's charcuterie from Pascal Flori in Murato, Charcuterie Cesari, José Chiarasini in Tavera, and the lonzo Isula Bella from Bastelica. Notably, there's the organic charcuterie of Frédéric Bacciochi, located at the end of the central aisle.
Corsican Cheese and Tomme
Corsican cheese also holds a prominent place. Displayed or on the shelves, sold whole or cut, especially for Corsican tomme. Brocciu in season and aged cheeses from Haute-Corse and Corse-du-Sud. You'll also find Sardinian cheese to discover other craftsmanship.
Spirits, Jams, Honey, Canistrelli
The grocery also offers a wide selection of sweet regional products such as Corsican jams, AOP Corsican honey, canistrelli (Corsican biscuits), and a section dedicated to spirits, Corsican liqueur, gin, muscat, as well as Cap Mattei, wine from the Alzipratu estate, and beer from the Pietra Brewery.
You'll also find a range from O'Ma: Corsican soup, velouté, tomato sauce, ketchup, as well as Corsican mustard.
Artisanal Food and Non-food Products
Wishing to highlight the island's craftsmanship, the Zonza grocery store also showcases the artisanal work of the island, including wicker baskets from Calenzana Basketry, the knives by Barthélémy Benvenuti from Santo Pietro di Tenda, the Realia cosmetic products, and essential oils by José Fratini from Zicavo.
With a clientele that becomes predominantly local in the winter, the grocery store tries to meet certain needs, notably selling vigil candles.
Parcel Shipping
The A Muvra grocery store offers parcel shipping throughout Metropolitan France and abroad all year round. To place an order, don't hesitate to contact the grocery store by email or phone.
Address and Contacts
Phone
04 95 78 63 57
Email
Send an Email to A Muvra
Address
Village, D368, 20124

Zonza

Opening Time or Period
Summer: 7/7 from 8:30 am to 7 pm - From May 1st to October 31st
Winter: Morning from 8:30 am to 12 pm from Monday to Saturday, closed on Sunday
Google Map
See A Muvra on our Map