Traditional Corsican Basketry - Calenzana
Published on 21/04/2023 | Updated 5 months
Handwoven wicker basket and other woven items from the Corsican Basketry of Calenzana near Calvi. Annick welcomes you all year round and offers introductory courses. Wicker, olive, and myrtle baskets are also available for online purchase. She also offers two yearly rentals.
Wicker basket - Bread baskets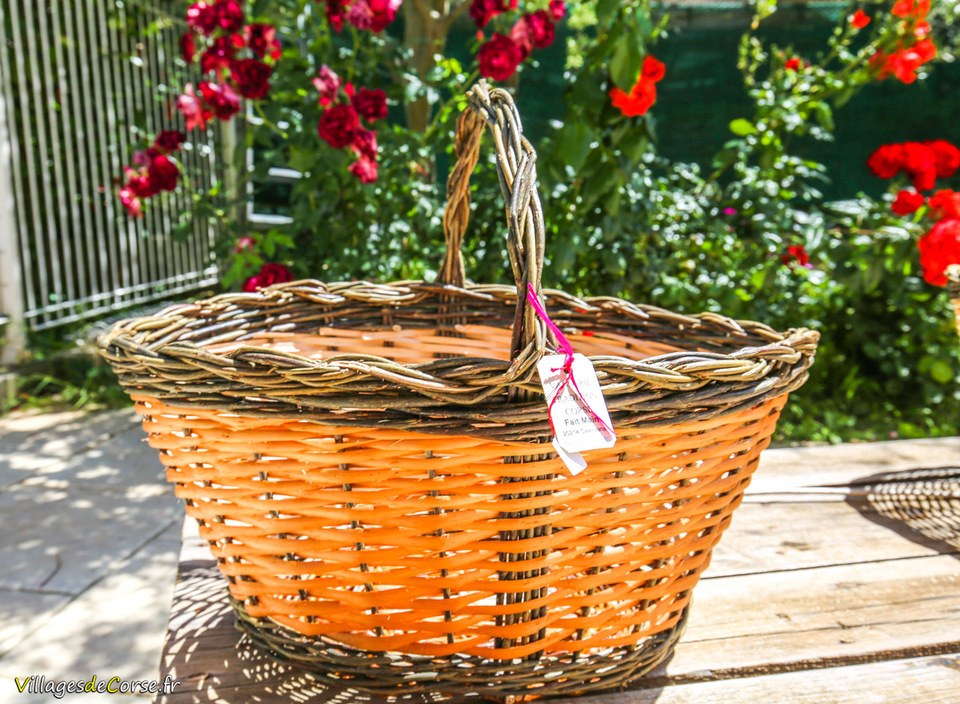 Established in Balagne since 1992 after several seasonal jobs and a stint in mass retail, Annick Rony discovered basketry through a meeting with a shepherd from Lumio. This marked the beginning of a new profession and a craft that would give a whole new meaning to her life.
The Calenzana Basketry was born in 2002, with the workshop located at the entrance of the village of Calenzana where Annick has been crafting a variety of creations for 19 years:
Handwoven wicker baskets
Lucette baskets
Wood or log baskets with one or two handles
Wicker baskets for bread or fruit
Trivets
Bathroom storage trays
Flat or curved trays
Mounts for demijohns, large-capacity containers for water, wine, or oil
Bird feeders
Lampshades
Rolling storage basket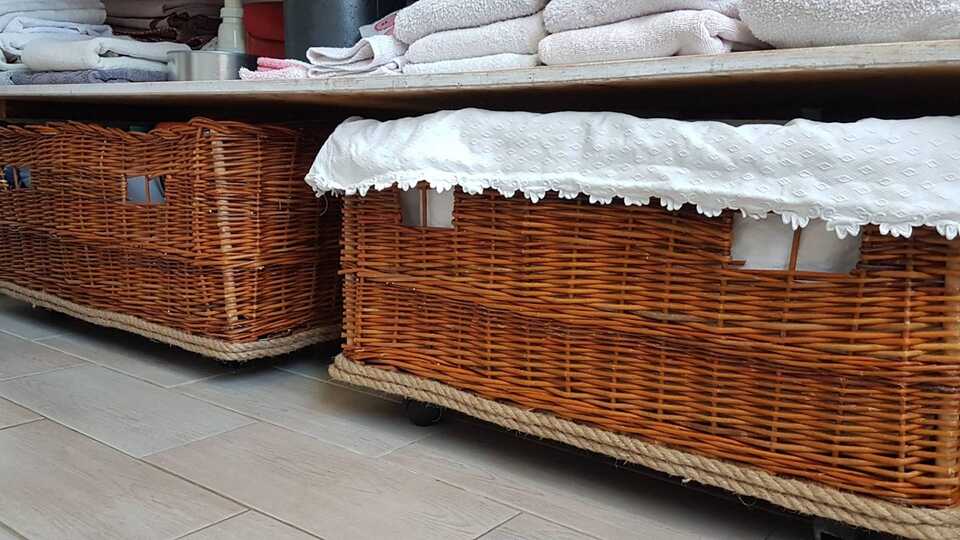 In response to a customer's request, Annick created a custom-made rolling storage basket in June 2021.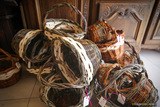 She also fulfilled an order in 2022 for the biscuit factory E Fritelle de Calenzana, with wicker baskets designed exclusively for the biscuit factory.
Craftsmanship in Wicker - Myrtle - Olive
Artisanal basketry uses wicker, as well as myrtle and olive. Only wicker cultivated in osieries is imported from the mainland, while other plants are of local origin.
An artisanal basket made with myrtle has the pleasant characteristic of releasing a lovely myrtle scent when scratched, lasting throughout its life.
The colors of wicker
Wicker comes from various species of trees or shrubs belonging to the willow family (white, brown, red or purple, yellow, green), offering a wide range of colors that can be clearly distinguished on baskets. When referring to white wicker, purple wicker, green wicker, or yellow wicker, it refers to their plant origin. These materials are in their raw color state, requiring no varnish or paint, and are 100% natural.
Manufacturing stages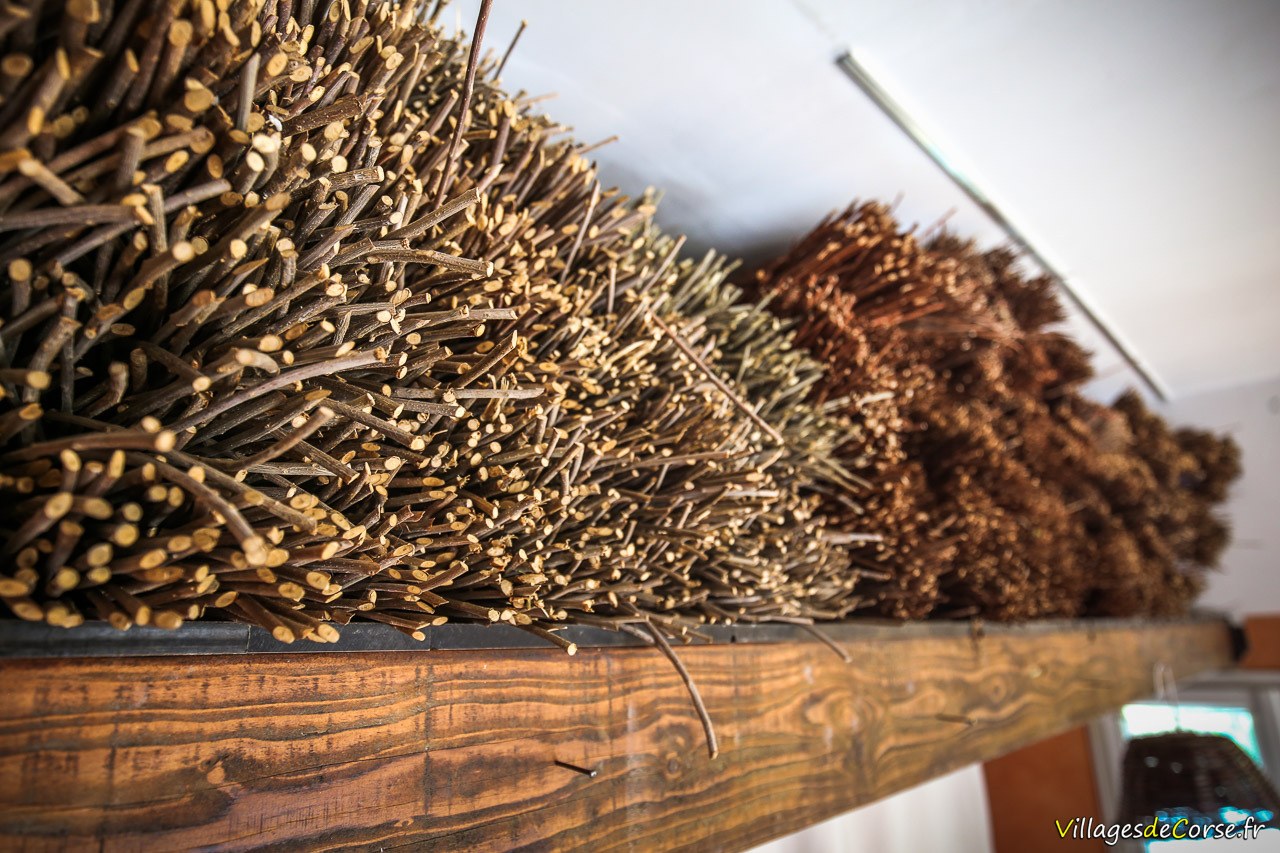 A creation takes time and goes through three stages: the gathering of plant materials, their conditioning, and weaving.
At the right season and under the right moon, myrtle and olive branches are freshly cut with pruning shears, then defoliated to keep only the rod which is left to dry. The length of the branches will determine the size of the final object. The branches must then be submerged in water for a week to soften and make them workable. There is no time to waste once they are removed from the water, as once dried, they take their final position.
Custom Manufacturing
Traditional Corsican Basketry offers a variety of pre-made objects displayed in the workshop. Custom creations can also be made. You can choose the colors, shape, and size of your basket or any other object. Several types of wood can be used to add different colors, shades, and create a base or handle with the unique characteristics of the material used. Given the time required for conditioning the plants, it takes about 2 to 3 weeks for a custom-made creation.
Since 2017, Annick has been developing a range where she adds ornaments, colored beads, and accessories to enliven her creations and add a decorative touch.
Restoration of Caned Chairs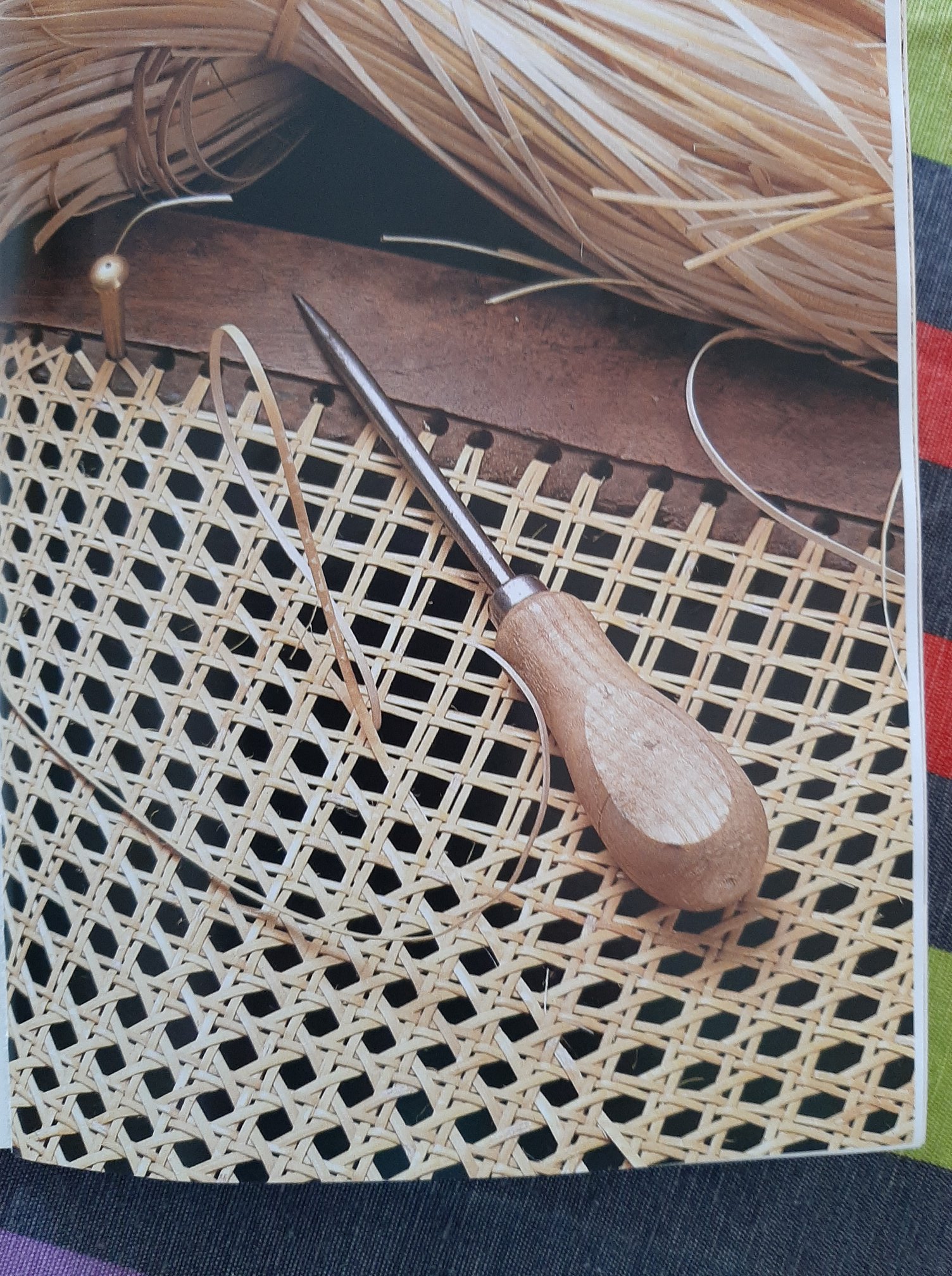 Since 2020, your Basketry of Calenzana also offers to restore your caned or woven chairs.
Prices - Free Parcel Shipping from 40 Euros
Below you will find the prices of wicker baskets or placemats to firewood baskets, which range from 20€ to 60€ depending on size. The Basketry of Calenzana sells by mail order and ships parcels throughout mainland France with its online products below. On-site or online, payment methods by check or credit card are accepted. After direct sales, if the object has a creation time, it can be shipped to the mainland if the price exceeds 40 euros.
Designed to Last a Lifetime
As a traditional craft dating back to the origins of agriculture, basketry is a centuries-old skill that has remained unchanged or has changed very little. Each step is done by hand, from gathering to weaving. The creations that come out of the workshop are designed to last for decades and be passed down from generation to generation. They are both decorative and useful objects, light and sturdy.
Note that the baskets from the Basketry of Calenzana can be found at the Nonza grocery store and participated in the 2017 Montbéliard Christmas Market.
Workshop Visit and Introductory Course
Annick invites you to visit her workshop where you can witness the manufacturing process itself.
Basketry Workshop (by reservation)
Introductory workshops lasting half a day are also offered on Monday, Tuesday, Thursday, and Friday, after which apprentice basket makers will leave with their own wicker basket.
The workshop runs from 9:00 am to 1:00 pm, and the cost for the half-day course is 60€, which includes all materials and tools required for making your own basket. No prior experience in basketry is necessary, as Annick will guide you through each step of the process.
These workshops are perfect for individuals, families, or small groups interested in learning more about the ancient craft of basketry. Participants of all ages are welcome, making it an ideal activity for a unique and memorable vacation experience.
Reservations for the workshops can be made directly by contacting the Basketry of Calenzana by phone or email. Spaces are limited, so it's recommended to book your spot early to ensure availability.
Gift Ideas and Souvenirs
Whether you're looking for a unique gift for someone special or a souvenir to remember your time in Corsica, the Basketry of Calenzana offers a wide range of handmade baskets and other woven objects. Choose from traditional designs or more contemporary styles adorned with colorful beads and ornaments.
The versatility and durability of these handmade creations make them ideal for both practical and decorative purposes. Bring home a piece of Corsican tradition and craftsmanship that you can use and admire for years to come.
Supporting Local Artisans and Preserving Tradition
By purchasing a basket or participating in a workshop at the Basketry of Calenzana, you're not only acquiring a beautiful and functional object but also helping to support a local artisan and preserve a centuries-old tradition. Basketry is an integral part of Corsican culture and heritage, and your patronage helps ensure its continuation for future generations.
Visit the Basketry of Calenzana during your stay in Corsica, and immerse yourself in the history and craftsmanship of this fascinating art form. You'll leave with a greater appreciation for the skill and dedication required to create these stunning woven objects and a tangible reminder of your time on the beautiful island of Corsica.
Basketry Workshop (by reservation)
Introductory workshops lasting half a day are also offered on Monday, Tuesday, Thursday, and Friday, after which apprentice basket makers will leave with their own wicker basket.
The workshop begins from 9 am to 12 pm in the morning, and from 2:30 pm to 5:30 pm in the afternoon. The price of a workshop is 42 euros per person, and materials are provided on site.
Workshops take place by reservation, at least 3 days in advance, to allow for the necessary soaking time to work with the myrtle.
Mini Villa Rental - Furnished Tourism Accommodation
For several years, Annick has been renting out two Furnished Tourism Accommodations in the form of a Cottage and Apartment, located 10 minutes from Calvi and at the entrance to Calenzana. Highly rated with 4.77/5 from 295 experiences for the Mini Villa on Air Bnb (please disregard the Calvi locality), and 4.96 from 68 experiences for the apartment on Air Bnb, the rentals are available all year round with reversible heating/air conditioning, private parking, and all the comforts.
Independent Mini Villa - 2 People
This functional, independent, and comfortable little house is located next to Annick's garden, where she also sells her vegetables and eggs. This 20m² rental is ideal for a couple.
Bedroom
1 Double bed, one sofa bed, (sheets and towels provided)
Reversible air conditioning
Bathroom
Kitchen
Salt, pepper, tea, dishwashing liquid, dish towels
Exterior
Apartment - 4 People
This apartment also offers all the necessary comforts with a large terrace, outdoor lounge furniture, and a barbecue. It can accommodate 4 people with the option to add a baby bed.
Bedroom
1 Double bed, a convertible sofa (sheets and towels provided)
Wifi
TV
Reversible air conditioning
Bathroom
Walk-in shower
Sink
Toilet
Hair dryer
Soap, individual shampoo
Kitchen
Microwave oven, gas stove
Coffee maker, toaster
Salt, pepper, tea, dishwashing liquid, dish towels
Refrigerator, freezer
Outdoor
Private parking
Outdoor lounge
Backyard, garden