E Fritelle in Calenzana and Calvi - Corsican Biscuit Factory
Fritelle and Cujuelle from Calenzana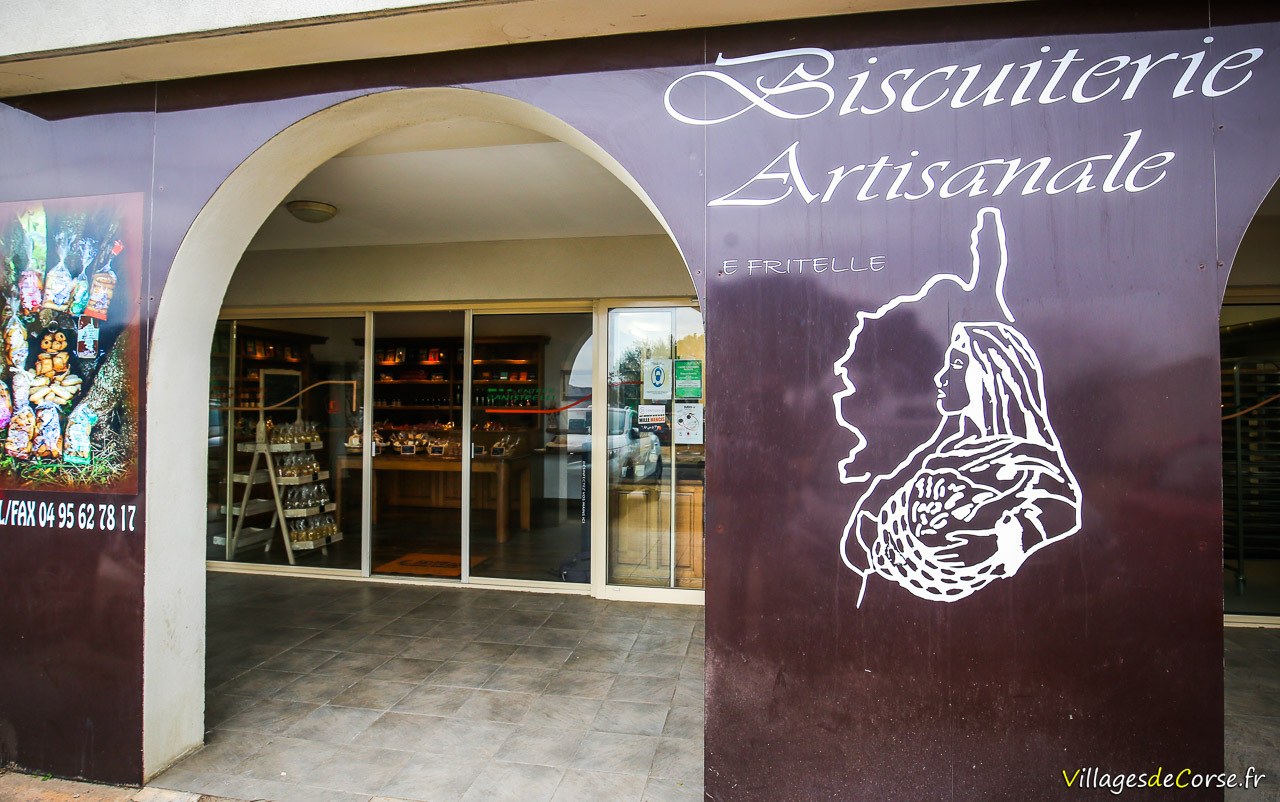 E Fritelle is a father-son artisanal biscuit bakery that has been in operation for 39 years. It is located in Calenzana, a village in the Balagne region known for its cujuelle, which you can taste in their famous biscuits. The shop is just a few hundred meters from the start of the GR20.
In partnership with the Calenzana basketry, you can find handmade baskets filled with biscuits at the store.
Second Shop in Calvi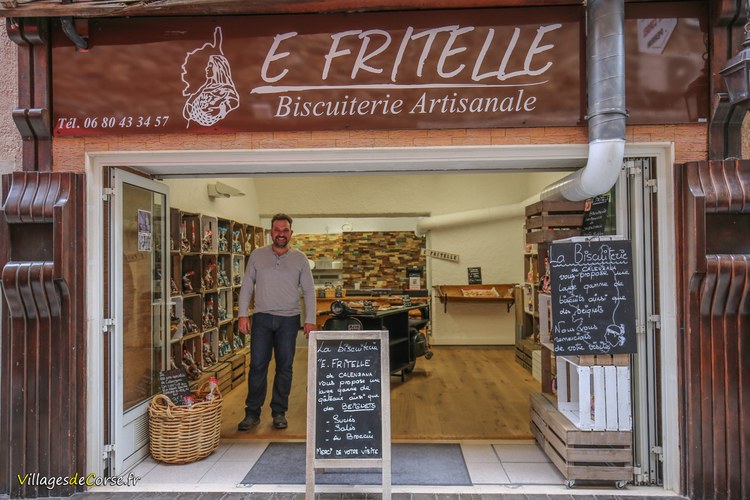 Since 2019, E Fritelle has another store on Clémenceau Street in Calvi. It is open from April 1st to October 31st. You will find all the Calenzana biscuits there, as well as savory biscuits and brocciu beignets that are only available in the store.
Since late 2020, E Fritelle biscuits are also available for online purchase on the Brin de Corse website, the link is at the top of the page.
Artisanal Biscuit Making
Artisanal biscuit factory
All production is handmade. The dough is rolled out and cut with a pastry wheel, all the way to packaging.
The shop overlooks the production workshop where the team is at work.
Price per bag or weight
Hazelnut cookies
3.80€
Chocolate chip cookies
Plain Canistrelli
Aniseed Canistrelli
Raisins, hazelnuts, almonds

Price per bag or weight
Orange essence Fritelle
1.70€ / 100gr
Box of cookies
5.20€
Almond macarons
5.00€
Savory biscuits
3.80€
Chestnut fondant
4.80€
Sweet biscuits:
Cujuelle de Calenzana
Frappe or Fritelle - Corsican donuts
Biscuits: hazelnuts, almonds, chocolate, honey, lemon, orange
Chestnut flour fondants
Canistrelli plain or with aniseed
The range of savory biscuits for the aperitif now includes 4 flavors:
Onion-flavored savory biscuits
Olive-flavored savory biscuits
Cheese-flavored savory biscuits
Maquis herbs-flavored savory biscuits (new, released in 2022)
Among the specialties of the biscuit factory, you can find fritelle with orange essence which are small sweet donuts, or cujuelle with white wine - without eggs or milk - originating from the region. Traditional canistrelli are also available plain or with aniseed, containing milk and eggs. Each biscuit is made with a different dough and specific ingredients.
E Fritelle uses quality raw materials such as Popolasca honey or AOP Corsican chestnut flour.
The biscuits come in a whole range of flavors, with options for everyone such as lemon, almond, hazelnut, raisin, chocolate chips, orange, honey and chestnut flour, not to mention the savory biscuits with Corsican cheese, olives, or onions.
Video of The Two E Fritelle Shops
Direct or Online Sales
From 7am to 6:30pm in winter and from 6am to 7:30pm in summer, the biscuit shop in Calenzana opens its doors with a wide range of products. You can also find them during the season at the second Calvi shop.
Product Catalog and Prices
The family business started in 1984 with Rodolphe's father making and selling "frappe e Fritelle" locally. The company has since grown and continues to delight the region with its delicious products, which you can find online below.