Valisula Couture, Seamstress in Île Rousse
For 17 years a seamstress in Île Rousse, having honed her skills in Bordeaux's Golden Square, Valérie crafts a variety of women's clothing. She is particularly known for recycling fabrics brought to her, breathing new life into them as fresh garments. She also performs alterations and additions to your existing attire.
A Fashion Designer and Seamstress in Balagne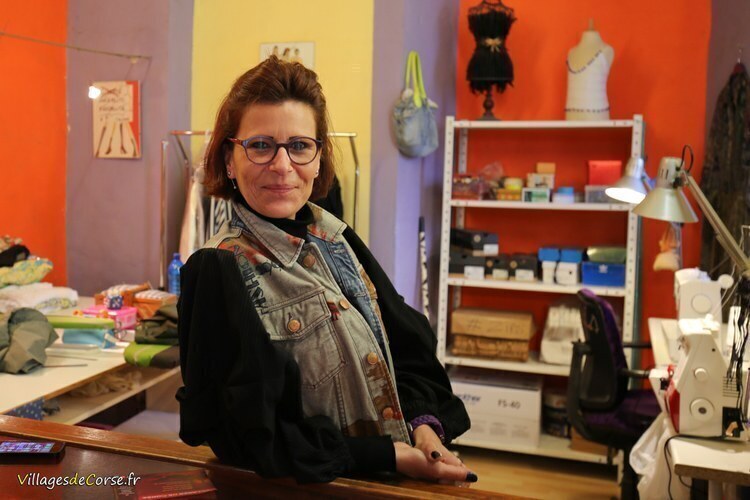 Valérie Pacheu has been a seamstress specializing in alterations since 2006, located at No. 5 Louis Philippe Street in Île Rousse. Originally from Bordeaux and having worked in haute couture, she has always been drawn to this profession which fuels her passion and provides her with a freedom she holds dear. Having earned numerous qualifications in the field (CAP, BEP, Bac Pro and BTS), Valérie cut her teeth in fashion at Bordeaux's Golden Square. Feeling the need for a lifestyle change, she moved to Corsica and worked in the hotel industry without ever leaving sewing behind. The praise she received for her daily wear creations motivated her to open her own sewing studio, which she did 17 years ago.
Preference for Phone or Text
Due to limited internet connectivity and a lack of familiarity with her email inbox, Valérie encourages you to contact her preferably by text or phone.
Clothing Recycling
New from the Old
Valisula reworks fabric in every seam, carrying forward an innovative idea: clothing recycling. Instead of using new fabric, you can bring in clothes you no longer wear for Valérie to repurpose the material. Whether it's customization, transformation, alterations, or creating entirely new pieces, everything is handmade. For instance, you might find hand-sewn purse straps braided together, with no hint that they originated from an old t-shirt.
Reupholstering Sofas, Wedding Decor, Car Seats
Valérie enjoys pleasing her customers by occasionally branching out from her regular work to accommodate requests. This flexibility has led her to undertake projects such as restoring armchairs, sofas, even car seats, or crafting fabric to dress wedding venues.
Personalization
Perhaps you'd like to add an element to your dress, trousers, or top, or conversely, you'd like to remove or modify part of your clothing, Valisula enables you to revisit your wardrobe and adjust your clothing to your liking, with the advice of a passionate expert.
Creations and Alterations
Bags, Totes, Clutches
Dress Design
Espadrilles, Tops, Skirts, Cushions
Transformations, Makeovers
The principle upheld by Valisula's workshop is creating new from old. It's not brand new—you can transform, shorten, puff up a sleeve. Displaying a sense of psychology and a touch of physiognomy, Valérie will strive to align your clothing with your personality. Driven by her work's passion, which she shares on Facebook—some of her creations are even worn by model Carole Consalvi she sees her victory in the idea of seeing the piece reborn anew.
Alteration and Repair Services
Valisula mends your torn or damaged clothing and performs all types of alterations such as hems, trouser or shirt adjustments, or sleeve additions or removals. The workshop also offers armchair or sofa reupholstering, cushion refurbishment, custom-made curtains, and all types of flexible materials for furnishing projects.
Custom-Made Fabrication
What if you could define fashion? Together with Valérie, bring your imagined clothing to life in sizes ranging from 36 to 42.
In addition, Valisula also creates accessories, jewelry, and bags, using a wide variety of fabrics such as curtains, pairs of shoes, jeans, and clothing.
Creation of Custom Evening or Wedding Dresses
If you have a specific idea for a wedding dress in mind, Valérie can help bring your vision to life. A unique and tailor-made piece ranging from size 36 to 42, according to your measurements.
In March 2019, for a concert in Ajaccio, Corsican singer Battista Acquaviva wore a black dress custom-made by Valérie, casting a spotlight on the work and talent of the Île Rousse seamstress.
Exhibition and Sale
Open Monday to Friday from 9 a.m. to 12 p.m., and available by appointment in the afternoon—and possibly for private appointments in the morning—Valérie's ready-to-wear creations are displayed at her Île Rousse boutique. In the winter, Valérie also offers to carry out upholstery work on very specific requests (armchairs, chairs, sofas, etc.).
Address and Contacts
Phone
06 81 29 69 35
Email
Send an Email to Valisula
Address
5 rue Louis Philippe, 20220

L'Isula

Opening Time or Period
Available all year round from Monday to Friday, 9 a.m. to 12 p.m., and by appointment in the afternoon
Google Map
See Valisula on our Map
Social Networks