Si Mea Hotel - Corsica
Hotel with Swimming Pool in Central Corte, Corsica
The Si Mea hotel welcomes you all year round in a calm and relaxing setting, just a 5-minute walk from Corte, in the heart of Corsica. Constructed in the 1930s and entirely renovated in 2013 to become a charming hotel, the establishment boasts an ancient architecture with balconies providing a panoramic view of the Corte Citadel and the valley. Si Mea - which translates to "You belong to me" in Corsican - is a peaceful haven surrounded by citrus trees: oranges, lemons, clementines, citrons, and other regional varieties.
Heated Swimming Pool
Since the end of 2017, the Si Mea hotel features a heated swimming pool, surrounded by sun loungers and parasols. Its dimensions are 12.5 meters by 4.5 meters with a depth of 1.5 meters.
Rooms and Services
The 10 rooms of the Si Mea hotel boast a balcony or a south-facing terrace. A breakfast buffet composed of local Corsican products awaits you every morning, indoors or on the hotel's terrace facing the mountainous slopes of Corte.
Each room comes equipped with air conditioning, a flat-screen television, a mini-bar, a private bathroom with a hairdryer, shower, and complimentary toiletries. The hotel also provides Wi-Fi connectivity.
Private Parking
The establishment features a secured private parking under video surveillance.
This imposing 1930s building houses several suites, the rates of which are indicated below.
2023 Rates - Si Mea Hotel
November
to March
April
May &
October
June
& July
August &
September
Classic Rooms
€65
€78
€88
€92
€102
Classic Rooms with View
€69
€81
€90
€102
€112
Superior Rooms with Terrace - Mountain View
€75
€88
€98
€115
€125
Superior Rooms with Private Balcony - Mountain and Corte View
€85
€98
€108
€125
€135
There is the option to add an extra bed for €20 per night and per person. The tourist tax per day and per person is €1.32.
Breakfast
The price of breakfast is €10.50 from April, per day and per person, served in your room, on your terrace or the hotel's. It is served from 7:30 to 10:00.
Classic Rooms
The classic rooms are equipped with a television, WiFi, shower, hairdryer, mini-bar, telephone, and safe. Available on the first floor or the ground floor for two people with the possibility of adding a baby bed.
Superior Rooms with Terrace
Rooms with terrace (not private) and garden furniture. Mountain view, television, WiFi, hairdryer, mini-bar, safe, and air conditioning. Available on the ground floor for two people. The possibility of an additional bed on request for 3 to 4 people.
Superior Rooms, Private Balcony
View of the mountain and Corte. WiFi, shower, hairdryer, mini-bar, safe, air conditioning, television, preparation of hot drinks (kettle). Available on the first floor for two people.
Twin Beds
Rooms 7 and 5 have twin beds that can be separated. Also note that room 1 is suitable for people with reduced mobility, with a disability.
Yoga Classes and Massage Every Thursday at 10am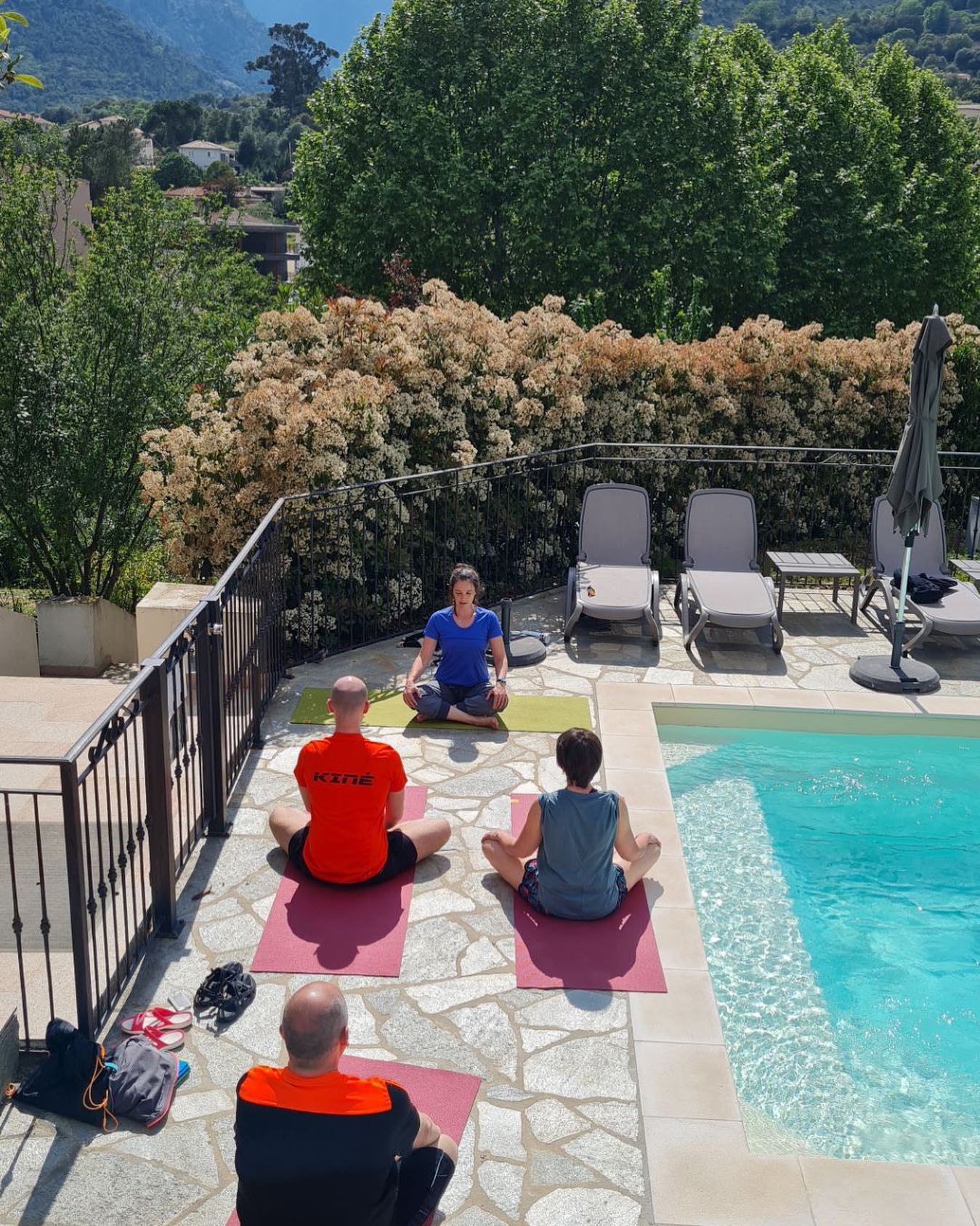 All those interested in Yoga classes, from Corte or passing through, are welcome at the Si Mea Hotel. You can opt for the group class, or book an individual class. The 60-minute classes are at the following rates:
Group classes: €15 / person
Individual class: €49
To reserve your place in a group or individual class, feel free to book at +33 6 75 70 42 11.
At the Crossroads of Events
The hotel is located at the entrance to Corte (coming from Bastia), away from the hustle and bustle and traffic while remaining close to the shops and restaurants in the city center. In the center of the island, Corte, with its rich natural and cultural heritage, attracts numerous events every year. The Corsican Museum, located in the Citadel, notably hosted a Matisse exhibition in 2021, which drew many people, including from the mainland, titled: 1898, Matisse In Corsica, "A Wonderful Country". Also worth noting is the producers' market of Corte, or the Venaco fair which takes place every spring.
Trail UTC 2023
As every year now, Corte organizes the UTC (Ultra Trail de Corte 110km and Restonica Trail 69km) which is part of the UTMB World Series, where this year 2023 will see hundreds of competitors among whom some of the best trail runners in the world will line up at the starting line.
Rivers and Lakes
On the nature side, you will appreciate the freshness of the Restonica river (car access is preferred) and the beauty of Taviganu with its natural pools that are very popular in the summer, directly accessible on foot from the heights of the old town.
By driving a few kilometers further into the Restonica valley, you can enjoy splendid mountain landscapes through the hike of the Melo and Capitello lakes, which are two glacial lakes of remarkable beauty. All these sites are protected and call for everyone's goodwill and responsibility to preserve this wild and fragile environment.
Other experiences await you, such as horseback riding, canyoning, or discovering the turtle village of Moltifau.
Hotel Video by Day and Night