Hiking to Sant'Alesiu Chapel in Valle d'Alesani
Chapelle Sant'Alesiu
2.9 km - 1h40 - Altitude : 677 à 962m - Elevation : 285m - Difficulty : 2/5
At the top of the Alesani village, in the hamlet of Quercetu, begins the trail that leads to the Sant'Alesiu Chapel, whose namesake Saint is celebrated on July 17 by the pilgrims of the region.
The trail to the chapel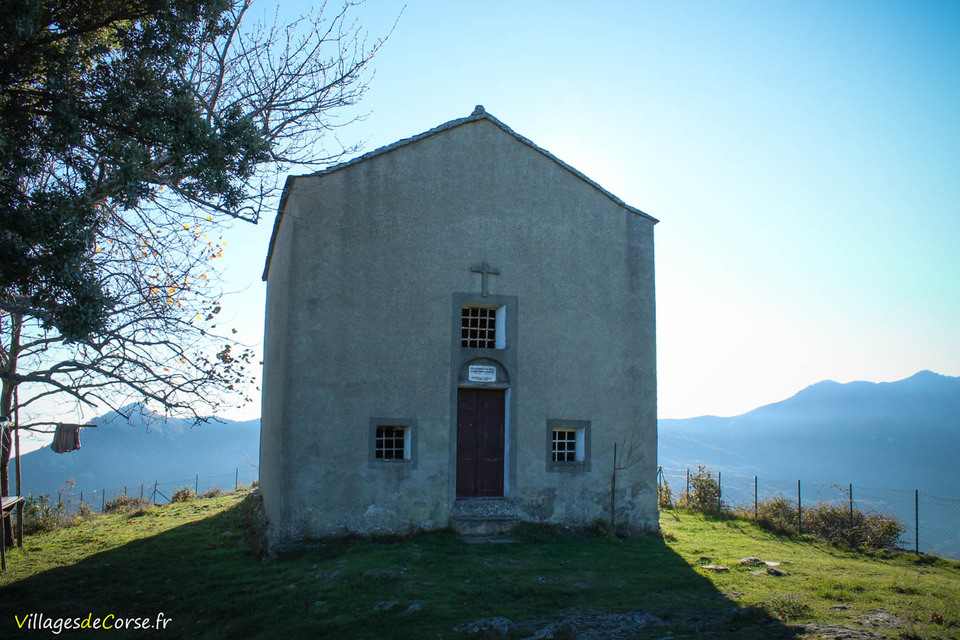 This hiking trail starts at the top of the hamlet of Quercetu, by the very last houses marked by a fountain opposite which one can park at the foot of chestnut trees that will be numerous along the trail. As you gain elevation, you can catch glimpses of the village of Valle d'Alesani, as well as the hamlet of Quercetu, from clear spots.
The ascent towards the Chapel is continuous with an average gradient of about 20%, requiring strong legs but the physical effort is compensated by a relatively short distance of slightly less than 1.5 km.
View of the entire valley as a reward
Built on a mountain ridge, the chapel marks the end and the objective of this hike with a remarkable view over the Alesani valley whose dam is hidden by the mountain slopes. To the east, the Monte Castellu d'Osari can be seen, as well as the sea in the background with the island of Elba in clear weather.
Procession to the Sant'Alesiu Chapel on July 17
Each year, a procession climbs to the chapel for the patronal feast where a mass is celebrated followed by an outdoor picnic, a merendella.
Carte IGN et dénivelé - Chapelle Sant'Alesiu