Restaurant U Palmentu in Centuri - Cocktail Bar
Exquisite Cuisine by a Renowned Chef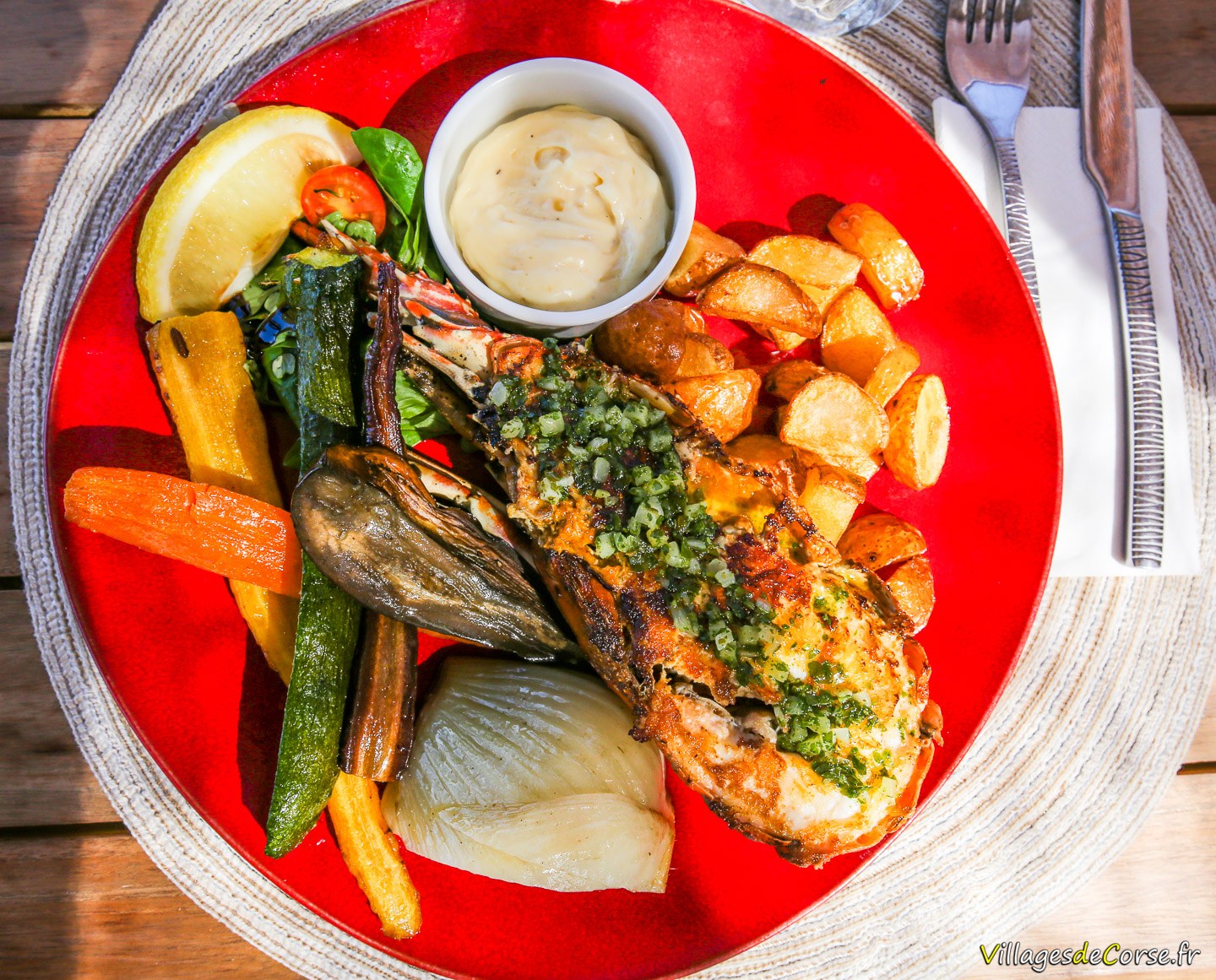 U Palmentu is a restaurant and cocktail bar located beneath the Hotel-Restaurant Le Vieux Moulin. Once a simple bar-snack establishment, featured in Gault & Millau 2022-2023, it has been transformed by Dominique Cavalli into a chic dining venue. Here, you can savor exquisite dishes prepared by David Tannevart, an accomplished chef and pastry instructor.
View Overlooking the Port of Centuri
The restaurant's terrace offers a direct view of Centuri's harbor, bathed in the glow of summer evening sunsets. You may prefer the family-friendly atmosphere of the terrace adjacent to the bar, complete with continuous service. The restaurant has 70 seats, making it a suitable venue for events, christenings, birthdays, and musical evenings.
Open for Lunch and Dinner from April to October
U Palmentu in Centuri is open from April to the end of September, for lunch and dinner, seven days a week. Reservations are advisable during peak season.
A Few Words About the Head Chef
David Tannevart is a well-known figure in the worlds of cuisine and pastry. Together with his partner and pastry chef Veruska Ramirez, he co-founded Davruska Formation, an institution for training pastry chefs. The couple frequently appear in culinary articles and broadcasts, such as in the Burgundian daily Bien Public, or in this radio show France Bleu Côte d'Or.
Fish Restaurant
Focused on sea cuisine with fish exclusively sourced from local fishing: Monkfish, Grouper, Leerfish, Scorpionfish, Dentex, John Dory, Bluefin Tuna, Swordfish, Sea Bream, Red Porgy, and the famed Centuri Lobster. We also feature endemic and local products such as Bastia bottarga. Some dishes vary according to availability and seasonality; for instance, Leerfish is available from late May to late June.
A portion of the menu features piattini, which are appetizers meant for sharing, following the same principle as tapas.
On the Menu - Chef 2023's Carte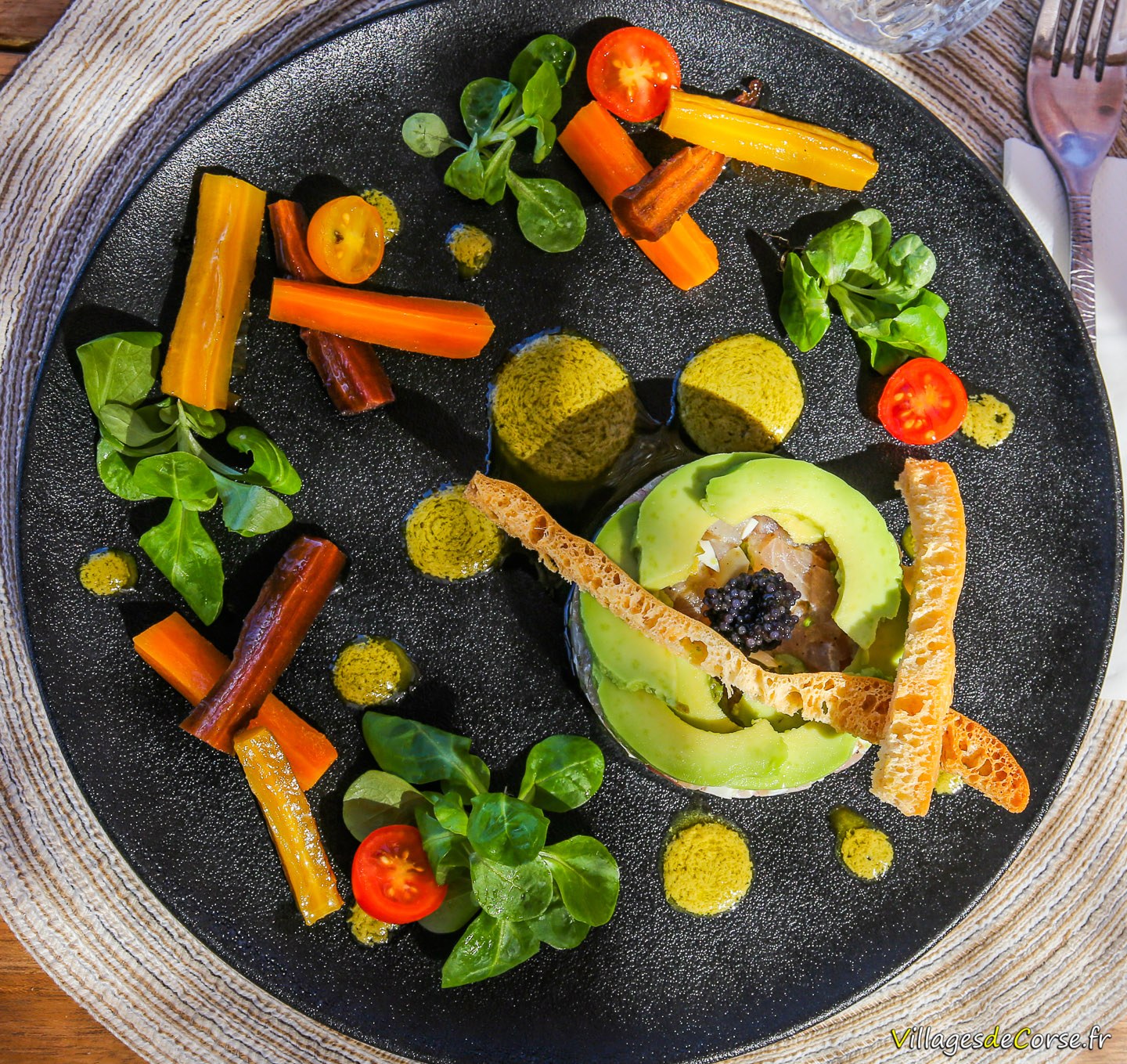 Piattini Starters or to Share
Minanna Octopus with red beans, onions, and capers
€12
Bastia-style Anchovies anchovy fillets marinated in olive oil, garlic, and parsley
€11
Tuna Rillettes with red onions and apples
€9
Chicken Tenders breaded chicken fillet with cocktail sauce
€10
Burratina with cherry tomatoes, salad, red onions, and homemade vinaigrette
€12
Charcuterie OR Cheese Coppa, lonzu, sausage or Corsican cheeses
€15
Mixed, Charcuterie AND Cheese Coppa, lonzu, sausage, and Corsican cheeses
€20
Truffle Croque Monsieur ham, mozzarella, truffle sauce, whole-grain bread, and béchamel
€11
Patatine with Parmesan baby potatoes roasted with rosemary and Parmesan
€6

Main Courses
Red Tuna or Swordfish Fillet with Candied Lemon and Minanna Ginger Sauce
€26
Fish of the Day (depending on availability) (Sea Bream, Red Porgy, John Dory, Monkfish, Scorpionfish)
---€
Gambas in Persillade 4 pieces, grilled on a plancha
€22
Seafood Dishter Sea Bream Fillet, gambas, fish of the day
€29
Homemade Lobster Ravioli served with lobster bisque
€32
Simmental Entrecôte (approx. 300g) Baby potatoes and green salad
€27
Corsican Veal Sausage with whole-grain mustard, baby potatoes, green salad
€19
Pasta with Truffle Cream and Burratina
€25
Nero di Seppia Pasta, Centuri fish, bottarga, cherry tomatoes, garlic, and parsley
€28

Raw Fish
Red Tuna Candied lemon, fried onions, parsley, lemon juice, red onion pickles, cucumber
€15
Swordfish Popcorn, coriander, red onion pickles, peppers, lemon juice, Espelette pepper
€15
Leerfish (depending on availability) Apple, fried onions, coriander, red onion pickles, peppers, lemon juice, sweet soy sauce
€16
Royal Assortment Assortment of raw fish (to share or as a main course)
€32
Salads
Sea Salad gambas, anchovies, tuna rillettes, salad, tomatoes, cucumber, red onions, potatoes, almonds, olives, candied lemon sauce
€18
Corsican Salad salad, tomatoes, red onions, olives, Corsican charcuterie, Corsican cheese
€14
Vegetarian Bawl salad, tomatoes, cucumber, feta, grated carrots, raw zucchini, red onions, almonds, olives, potatoes
€15
Burratina Supplement
€5

Desserts and Ice Cream
Hazelnut Molten Cake with Nucciola
€8
Lemon Fiadone
Nucciola Canistrelli Tiramisu
Rum Baba
Corsican Chestnut Flan
Gourmet Coffee
€9.50
"Maison Villoresi" Ice Cream 220ml vanilla canistrelli, coffee, nucciola, pistachio, rum raisin, lemon, melon, tangerine, strawberry
€6.50

Palmentu Menu for €29
Dishe of Charcuterie OR Tuna Rillettes
Fish Fillet of the Day OR Corsican Veal Sausage
Corsican Chestnut Flan OR Lemon Fiadone
Cocktail Bar
Cocktails
Beluga Citron Beluga Vodka (noble Russian vodka)
€15
Purple Palmentu Vodka, violet syrup, lime juice, lemonade, sprig of rosemary
€12
Tu Mexico Tequila, ginger beer, lime, crème de cassis
€12
U Ginger Gin Beefeater, ginger beer, lime, sprig of rosemary
€9
Veru Ginto Gin Beefeater, tonic water, cucumber, ground pepper, sprig of rosemary
€9
Ciao Cheery Ballantin's, Cap Corse Mattei Rouge, fresh orange, chestnut cream, lemonade
€12
Mojito Rum Havana Especial, lime, mint, brown sugar, Orezza
€8
Myrtonic Gin Beefeater, myrtle liqueur, Schweppes, myrtle berries, sprig of rosemary, lime
€12
Aperol Spritz, Aperol, prosecco, orange slice
€8
Capo Spritz Cap Corse Mattei red or white, sparkling muscat, orange slice
€8
Capo Champagne Billecart-Salmon Brut Champagne, Cap Corse Mattei white, peach syrup
---
U Palmentu is also a full-fledged cocktail bar with a menu of 11 cocktails listed below. The U Palmentu bar offers a wide selection of wines, each described by a sommelier.
The establishment also features 21 Corsican beer options.
Formerly a fisherman's cellar turned nightclub, U Palmentu has today evolved into a sought-after restaurant and cocktail bar in Centuri. The interior has been completely redesigned, featuring a new kitchen and Corsican chestnut furniture, all under the direction of Dominique Cavalli who has worked in event planning in France, Switzerland, and Belgium, on exhibitions themed around New York, California, and Japan.