A Bastella - Pizza in Lucciana - Migliaccioli
At A Bastella, the cuisine is practiced with passion using products from its own garden, supplemented with quality local products up to Corsican wheat. Franck busies himself daily from 2pm preparing sauces and toppings for his pizzas with seasonal ingredients. Open every evening except Sunday, enjoy wood-fired pizza in Lucciana near Casamozza.
Order your pizza by SMS or phone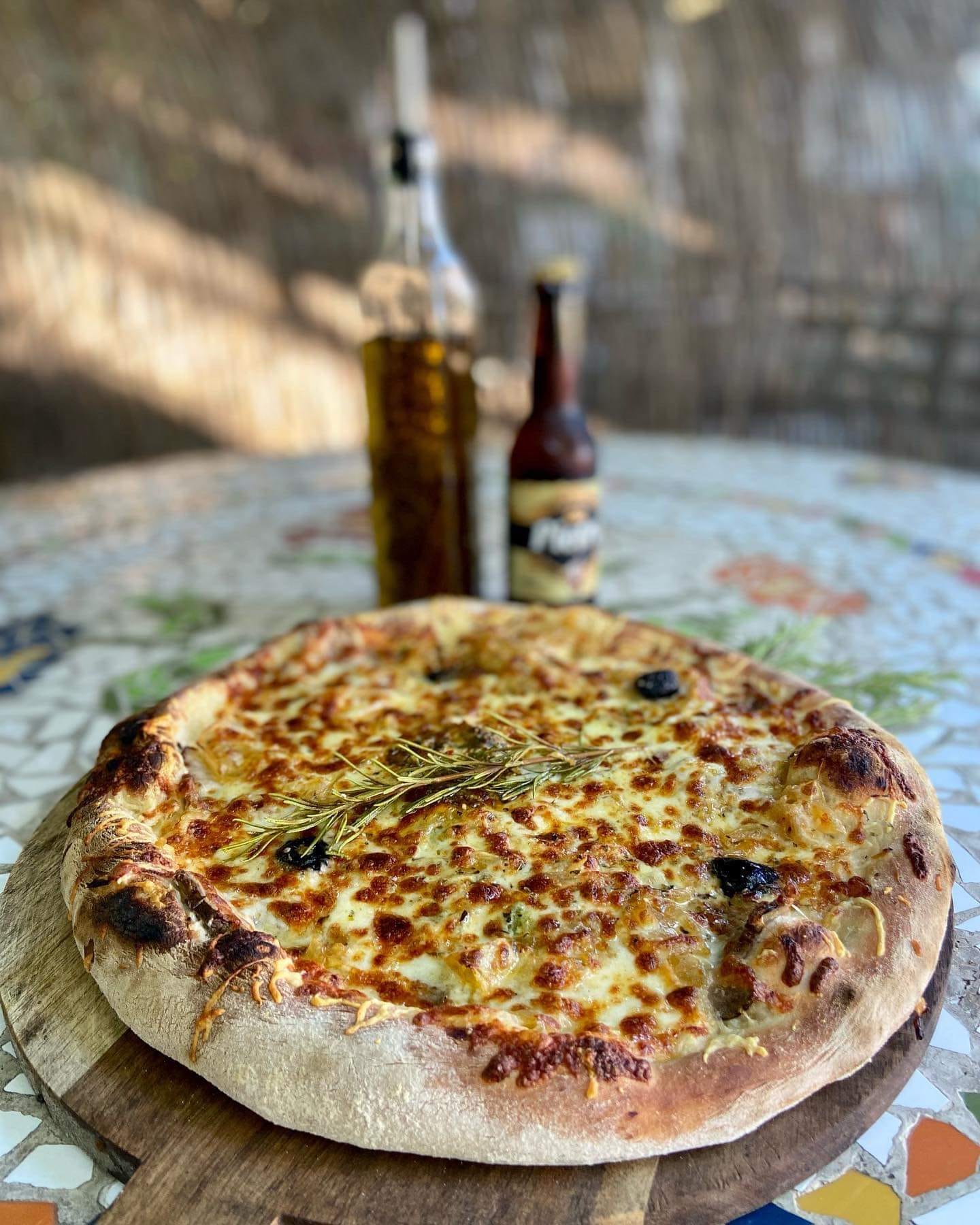 By SMS between 2pm and 6pm. Phone calls after 6pm.
For your convenience, contact Franck by SMS from 2pm to 6pm to place your order and choose the time to pick up your pizzas. After 6pm, please contact him only by phone, allow at least 1 hour waiting time.
Wood-fired pizza - Corsican wheat flour
Open every evening except Sunday, A Bastella is located on the edge of the RN 193 in a prefab 1km before the Casamozza roundabout. Since 2010, Franck Meschini makes pizzas and bastelle (galettes) with Corsican wheat flour Alalia, but also crepes, doughnuts, and drinks, every evening from Monday to Saturday.
Pizza remains the main order, generously topped with ingredients whose quality you will surely appreciate in taste. A Bastella selects fresh, seasonal, and regional products, sometimes directly sourced from Franck's garden (zucchini, basil, bay leaf, tomatoes, eggplants, ...), whose menu and pizza of the day vary according to the season's produce and fish arrivals.
The sourdough - just like the pizza dough - is made with Corsican wheat flour sourced from Aleria.
Daily and seasonal ingredients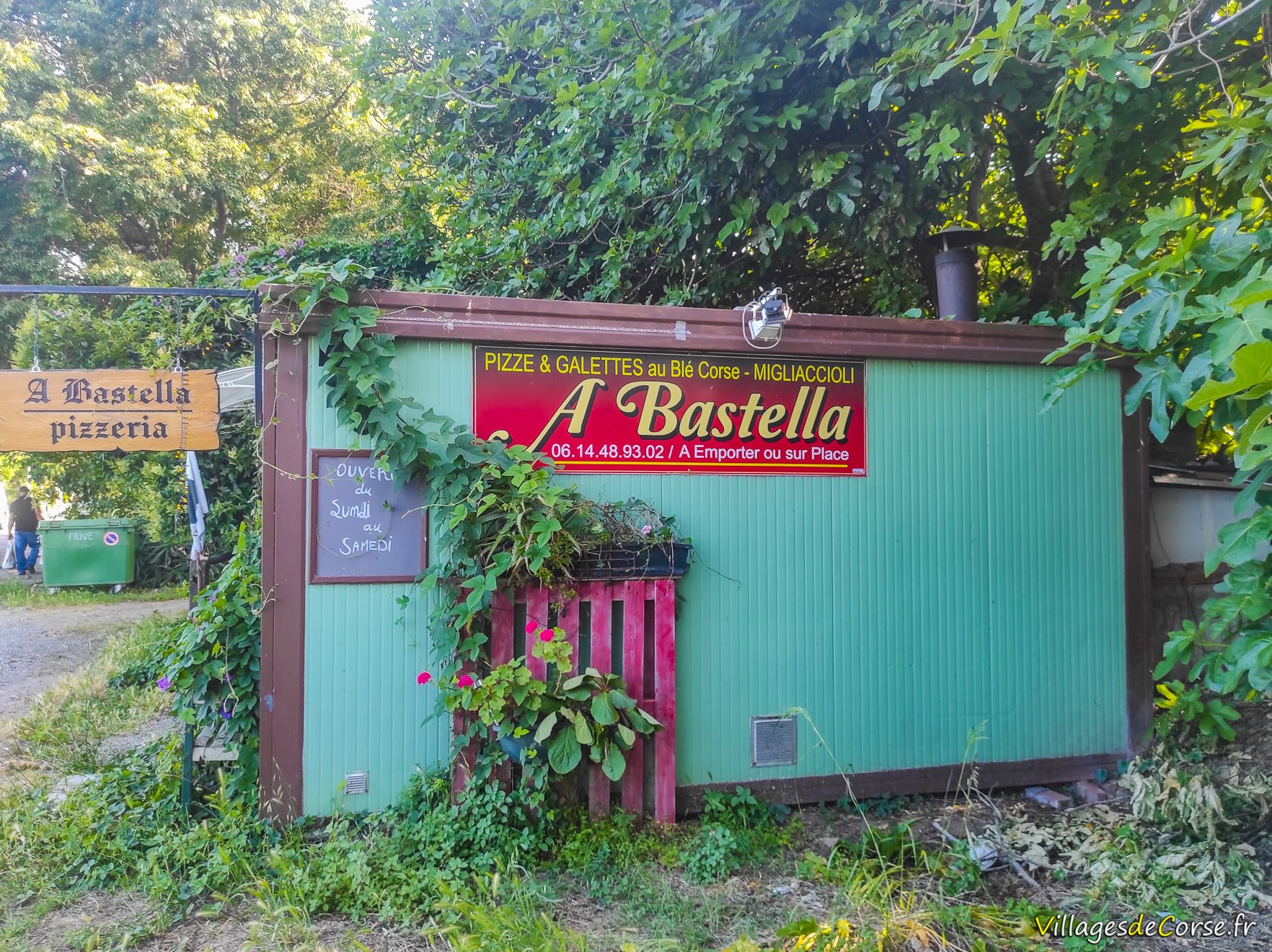 The ingredients used for the pizzas and bastelle are selected for their proximity and quality, day by day. Frank does not hesitate to change and adjust according to a Corsican cheese, charcuterie, or any other product that a producer offers him, providing each pizza and bastelle with new flavors.
A pizza of the day is featured daily. On Friday evening, it includes seafood or fresh fish depending on the local catch.
From 2pm, Franck begins cooking his fillings and working on the dough so that everything is perfectly ready for the evening.
A Bastella Pizza Menu - Summer 2023
The pizza menu varies between seasonal vegetables, Corsican cheese, charcuterie, meat, fish, tomato sauce or cream. Pizza and bastelle are cooked over a wood fire.
Pizza Menu 1/2
Queen
Tomato sauce or cream, cheese, cooked ham, fresh mushrooms, olives
10€
Daisy
Tomato sauce, emmental cheese, olives
9€
Nustrale
Fresh sheep or goat cheese, refined Corsican cheeses
14€
4 cheeses
Tomato sauce or cream, roquefort, goat cheese, emmental, mozzarella
12€
Parmigiana
Tomato sauce, eggplant, parmesan, cheese
12€
Vegetarian
Tomato sauce, eggplant, parmesan, cheese
12€
Zucchetta
Tomato sauce, eggplant, zucchini, peppers, Swiss chard, cheese
12€
Salmon
Smoked salmon, cream, spinach, goat cheese, cheese
12€
Bastiaise
Anchovies, bell pepper, pesto, tomato sauce, cheese
12€
Pizza salad
Anchovies, caramelized onions
10€
Mignone
Cream, minced pork, pancetta, parmesan, cheese
12€
Capretta
Goat cheese, honey, pancetta, cheese
12€
Tex
Tomato sauce, merguez sausage, chicken, bell pepper, spices, cheese
12€
Supreme
Cream, chicken, goat cheese, cheese
12€

Fresh Pizza Menu 2/2
Bolognese
Tomato sauce, minced meat (veal or beef), cheese
14€
Paella
Cream, chicken, chorizo, mussels, shrimps, spices, cheese
14€
Melting
Cream, 3 cheese crust, cooked ham, cheese
12€
Sunflower
Tomato sauce, salad, raw ham, melon
12€
Arrabiata
Tomato sauce, chorizo, cheddar
12€
Mozzarella
Tomatoes, basil, olives
10€
Mixed grill
Chicken, pork, merguez, pancetta, homemade ketchup
15€
Calzone
Tomato sauce, cooked ham, mushrooms, egg, cheese
10€
Hawaii
Chicken, pineapple, curry, cream, cheese
12€
Tartufata
Truffle cream, cream, ricotta, pancetta, truffle oil
14€
Scaccia
Swiss chard, onions
10€
Niçoise freshness
Salad, potatoes, tuna, anchovies, peppers, egg, tomatoes
14€
Greek freshness
Feta, onions, salad, raw ham, olives, tomatoes
14€
Weekend Specials: Bastelle - Migliaccioli
Corsican Wheat Pancakes
Basque: Chicken, peppers, tomato, cream
9€
Complete: Ham, mushrooms, egg
Nustrale: Ham
The "bastelle" are small Corsican pancakes composed of Swiss chard and fresh cheese that Franck prepares based on available ingredients.
A Bastella also offers Corsican specialties like "migliaccioli", as well as a menu of sweet and savory crêpes, and waffles, available for dine-in or take-out on Thursday, Friday, Saturday upon request. Both checks and cash are accepted.
Address and Contacts
Phone
06 14 48 93 02
Email
Send an Email to A Bastella
Address
Lieu-dit Precoggio, 20290

Lucciana

Opening Time or Period
Open every evening from Monday to Saturday
Winter from 6pm to 10pm - Summer from 6pm to midnight
Google Map
See A Bastella on our Map
Social Networks